India's sacred Ganges begins as a crystal clear river high in the frozen Himalayas, but severe pollution from human waste and industrial effluent transforms it into toxic sludge on its journey through cities and industrial hubs. The river is worshipped by a billion Hindus and is the primary water source for 400 million people – more than any other river in the world. However, "Mother Ganga" is dying.
Reuters photojournalist Danish Siddiqui followed the river from its mountain source to the megacity of Kolkata where it flows into the Bay of Bengal.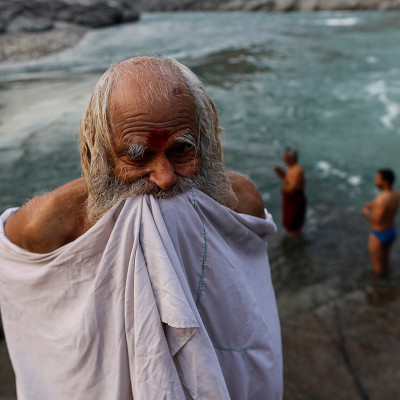 In Devprayag, a small hill town where two rivers converge to form the Ganges, Lokesh Sharma, a 19-year-old priest, is his family's fourth generation to lead riverbank prayers. "I feel blessed to have been born next to Mother Ganges," Sharma said, as chanting priests and devotees, some bottling the water, dunk themselves in the fast-flowing river. "I never thought of going somewhere else and settling. Devprayag is a heaven for me."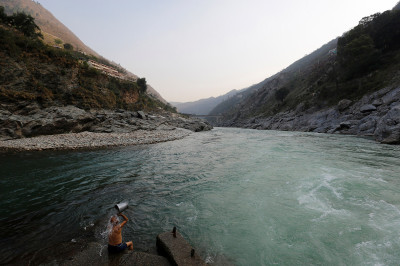 The pristine water soon becomes a distant memory as the 2,525 km-long (1,570 mile) Ganges snakes its way down to the densely populated plains of north India. Thousands of Indians immerse themselves and idols of their gods every day, believing a dip in the Ganges absolves a lifetime of sins.
People drink the water and use it to water crops. They also bathe in it and wash their clothes in the river. Children who swim in the Ganges are regularly treated for waterborne diseases such as dysentery, cholera and severe diarrhoea, one of the leading causes of death of children in India.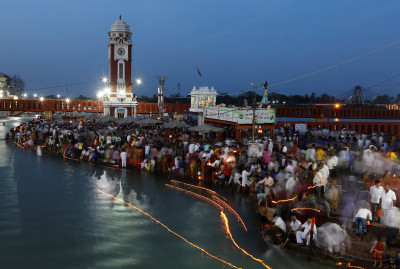 Passing under bridges in the industrial city of Kanpur, the water turns dark grey. Industrial waste and sewage pour in from open drains, and clouds of foam float on its surface. At one stretch, the river turns red. Nearby, tannery workers haul chemical-soaked buffalo hides into huge drums. The filthy effluent is dumped in the river.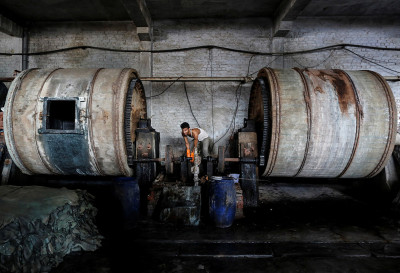 "I feel sad about what's happening around us. The Ganges is getting dirty day by day but nobody cares. Not even its children," said 66-year-old priest Ashok Kumar in Mirzapur, a riverside carpet and brassware hub. "The Ganges is our mother. There won't be any future if she dies."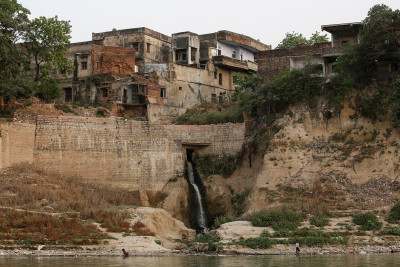 The poor health of the Ganges is most keenly felt in Varanasi, the ancient and most holy of cities for Hindus. Religious students practise yoga, pilgrims seek spiritual purification and families cremate their dead by the water's edge, scattering their ashes so that souls go to heaven and escape the cycle of rebirth.
Along the bathing ghats, prayers invoking followers to keep the Ganges clean fill the hot evening air. "I remember earlier the water was very clean and we could drink it," said 58-year-old boatman Anil Sahni. "Now you can't even bathe in it."
The river widens as it curves southwards, towards the Bay of Bengal, passing thousands more villages and swelling cities. In the 14-million strong metropolis of Kolkata, people bathe and brush their teeth next to towering mounds of rubbish. On the outskirts, brick kilns and factories line the river banks.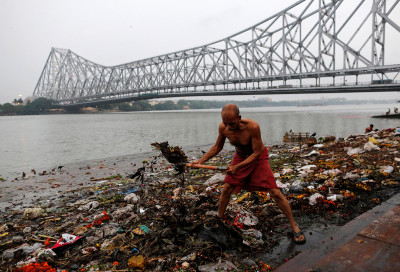 More than two-thirds of the sewage generated in 118 towns along the Ganges river basin is discharged into the river untreated. Prime Minister Narendra Modi's government has pledged to build more treatment plants and move more than 400 tanneries away from the river, but his $3 billion (£2.3bn) clean-up plan is badly behind schedule. Less than a quarter of an estimated 4,800 million litres of sewage that flow daily into the river from main towns and cities is treated.