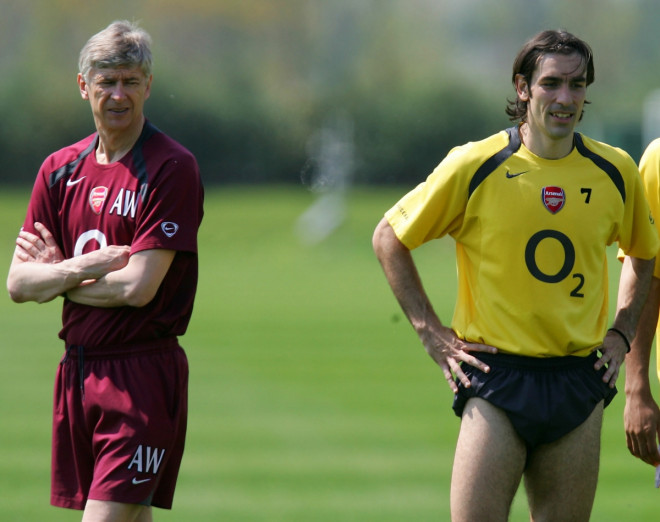 Former Arsenal midfielder Robert Pires believes that the Gunners can build on their FA Cup triumph and win more trophies in the future.
The north London club ended their nine-year trophy drought with a 3-2 win over Hull City in the finals of the FA Cup. However, the win was not without its scares, as the Gunners went 2-0 down in under 10 minutes with shambolic defending from set pieces.
Santi Cazorla gave Arsenal a lifeline by curling in an exquisite free-kick before the 20-minute mark which gave Arsenal the momentum to take the lead.
In spite of all the pressure, the Gunners failed to find the net and had to call on Laurent Koscielny to score the equaliser from a set piece to calm nerves.
Kieran Gibbs had a brilliant chance to win the game in normal time but the defender missed an open goal from two yards out by blasting over. The game went into extra time as the Gunners kept pressing and were unlucky to have not gone ahead when Olivier Giroud hit the post with a diving header.
However, it was Aaron Ramsey who secured the win for Arsene Wenger and his team, as he slotted in a brilliant shot from a dexterous back heel by Giroud to end a despairing run for the north London club.
Pires, who is conversant with the concept of winning trophies with Arsenal, believes that it can be the start of a new era at the Emirates but the club have to invest a lot of money to compete with the best in Europe.
"The club's last Premier League title was ten years ago now. It was an amazing season, we were unbeaten and it was a special time for Arsenal," Pires told talkSPORT.
"It's very important when you play for big clubs that you win trophies, so today was very important for the club. The FA Cup is a great trophy, a historic competition in England.
"It was important for the team and for Arsene Wenger as well and I hope they can win more from now on.
"I think the club need to spend a lot of money over the summer to prepare for next season.
"The objective is always to compete in the Champions League and the Premier League, and with Fabianski leaving and Sagna probably going as well, we need to build on the squad," he concluded.