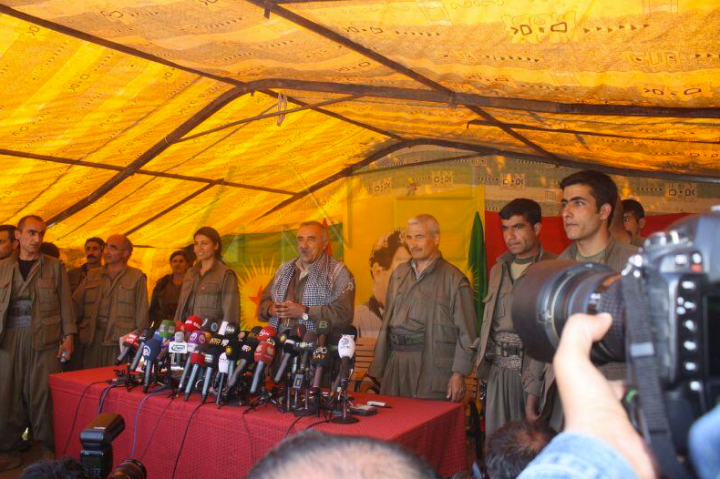 The Kurdistan Workers' Party (PKK) will withdraw its soldiers from Turkey on 5 May as part of a peace deal with Ankara to end the 30-year conflict that has claimed more than 40,000 lives.
Murat Karayilan, chief of the PKK's armed wing based in the Kandil Mountains in northern Iraq, announced the move during a press conference on Thursday, adding that militants will be relocated in northern Iraq.
The ceasefire was announced by the jailed leader of the PKK, Abdullah Ocalan, in March during a "historic call" read out by fellow politicians in the southern Kurdish stronghold of Diyarbakir.
"Weapons should go silent and politics should speak," he said during celebrations for Newruz, the Kurdish New Year.
"In the presence of millions of witnesses, I'm telling you, let a new process begin. No to weapons, yes to politics."
Ocalan also called on all armed militants to disarm and withdraw from the country.
Earlier in March, the PKK released eight Turkish captives as part of peace efforts. The hostages - six soldiers, a trainee local administrator and a police officer - were handed over in northern Iraq to a group including the pro-Kurdish Peace and Democracy Party (BDP) and NGOs.
A month earlier, Ocalan for a prisoner exchange as a gesture to encourage peace.
Talks between Ankara and Ocalan have culminated in Kurdistan abandoning demands for an independent homeland within Turkey.
The specific number of PKK activists remains unknown, but it is estimated that there are several thousand, most of them situated in the mountains within the Kurdistani regions.