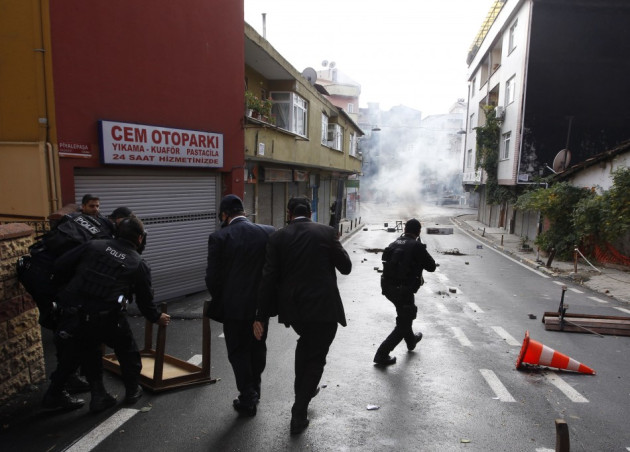 Police have clashed with pro-Kurdish protesters from the Peace and Democracy Party (BDP) in southeastern Turkey while several hundred are on hunger strikes to demand an end to the isolation of PKK leader Abdullah Ocalan.
Thousands of people joined a protest rally in the city of Diyarbakir and police used teargas and water cannon to hit back at groups of demonstrators throwing rocks and firebombs. A dozen protesters were detained, said police.
Shops were closed and many families did not send their children to school following a call for a boycott.
The BDP planned to hold its parliamentary meeting in front of the infamous prison of Diyarbakir, which is no longer in use. Several atrocities were committed against inmates imprisoned there during the 1980 military coup period.
About 690 Kurdish prisoners across Turkey were taking part in a hunger strike. The strike was started on 12 September by 65 prisoners, convicted of being members of the outlawed Kurdistan Workers' Party, which is considered a terrorist organisation by the EU and the US.
The hunger strikers are calling for quicker implementation of Kurdish language rights in education and freedom to use Kurdish in courts and an end to the solitary confinement of PKK leader Abdullah Ocalan, who is the only inmate on the prison island of Imrali.
The prime minister, Recep Tayyip Erdogan, accused Kurdish leaders of hypocrisy by forcing jailed militants to go on hunger strike while they the ringleaders ate kebabs.
"On one hand you are eating lamb kebab, on the other you are telling those in prison die on hunger strike," he said.
"As if the cruelty they commit outside isn't enough, the terrorist organisation and groups under its control are now turning to the prisons. It is instructing sympathisers in prison to [join] a death fast to achieve its political demands. We will not be coerced by hunger strikes."
Lawyers who visited the hunger strikers said that several were in critical condition.