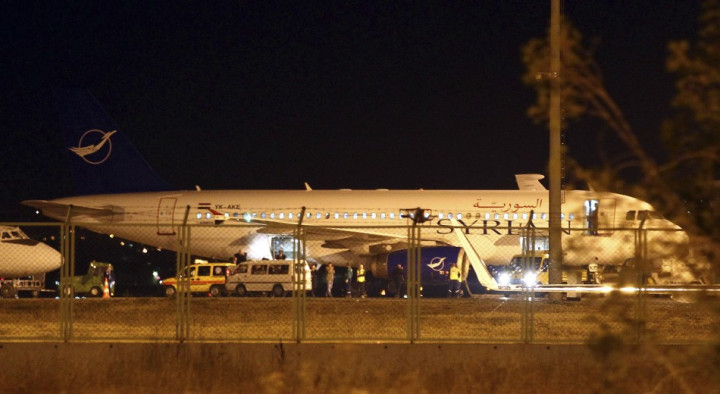 A Syrian passenger plane flying from Moscow to Damascus has been forced to land in Turkey on suspicion that it was carrying weapons.
Turkish F-16 jets intercepted the Syrian Air jetliner with 35 passengers on board as it entered Turkish airspace. The aircraft was forced to land at Ankara Esenboga airport.
Turkish security forces seized "illegal cargo" from the Airbus A320 before allowing the plane to continue, Turkish foreign minister Ahmet Davutoglu said.
According to local media, missile parts, communications equipment, wireless sets and radar jammers were found on board.
Davutoglu refused to confirm what was found, merely saying that "elements that are not legitimate in civilian flights" were found.
"If equipment is being carried under the guise of civilian flights or if they are not being declared, then of course we'll inspect it," he said.
"We are determined to stop the flow of weapons to a regime that carries out such ruthless massacres. We cannot accept that our airspace be used for such aims.
However, Turkish Prime Minister Recep Tayyip Erdoğan later confirmed that the plane was was carrying military gear and ammunitions.
The grounding of the Airbus has raised diplomatic tension between Russia and Turkey.
The Kremlin is still one of the few countries backing the Assad regime and Ankara has been entangled in repeated exchanges of fire with Syrian forces across the border in recent weeks.
The Russian embassy in Ankara asked the Turkish government for an explanation of the grounding incident. Seventeen of the passengers on board the 180-seat plane were Russian nationals.
Kremlin-owned RT news channel interviewed a flight attendant and a passenger who alleged that Turkish security forces beat passengers in an attempt to make them sign a declaration that the plane was not forced down.
"Four people on board have been beaten up - two crew and two passengers - as they tried to force them to sign documents," hostess Sherin Azis said.
"They started unloading packages. They opened them, took pictures. We all saw what was in there. There were no weapons. You could see it with an untrained eye. They just had some spare parts and papers - objects, but there were no rockets. It is all a lie," passenger Fatima al-Saman said.
Turkish aviation authorities have banned Turkish flights from Syrian airspace for safety reasons.
Earlier in 2012 another aircraft, flying from North Korea to Syria, was forced down by Iraqi forces who suspected it of carrying weapons to help President Bashar al-Assad's violent repression of the rebel upspring.