Sony has officially unveiled the PlayStation 4 console itself and confirmed a price tag of £349, £80 cheaper than the Xbox One.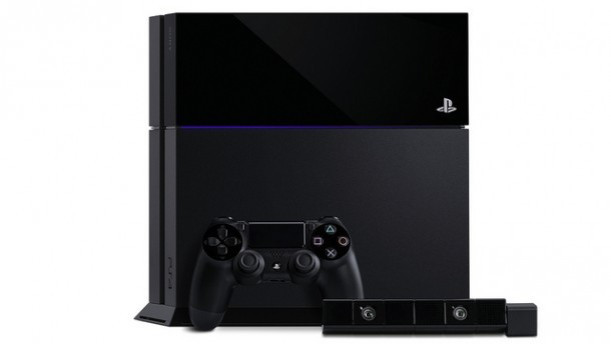 During Sony's keynote presentation at E3, group CEO of Sony Computer Entertainment Andrew House appeared on stage holding the PlayStation 4, a black box comprised of two shades of black plastic, similar to the Xbox One.
But as well as trumping the Xbox One on price, Sony also scored points with consumers by revealing that, unlike the One, no additional fees or restrictions will be placed on users who wish to buy or sell used games. Also, no online check-in or verification will be required at any point, unlike Microsoft's new console which will require players to validate their console every 24 hours to ensure it is playing legal copies of games.
However, a paid membership to Sony's PlayStation Plus scheme will now be required in order to play the PS4 online. Previously, only Microsoft had charged for online multiplayer, with a year's membership to Xbox Live costing around £30. PlayStation Plus currently costs £39.99 a year, however, users will be able to carry their existing Plus membership on the PS3 over to the PS4.
Multimedia
Sony also discussed its plan for multimedia streaming on the PS4. Michael Lynton, CEO of Sony's entertainment division, explained that the company's Music Unlimited service would feature on the PS4, boasting a streaming library of more than 20 million tracks.
Sony is also launching Video Unlimited on the PlayStation 4 which, at the time of the console's release, will feature a catalogue of over 150,000 films and television shows. As well as the existing Netflix app, Flixster will also appear on the PS4.
PlayStation 4 Games
As well as providing new trailers for Killzone: Shadow Fall, Infamous: Second Son and Driveclub, games which were all originally shown during the PS4's launch in February, Sony gave details on several new IPs currently in production.
First up was The Order: 1886, a steampunk themed shooter set in Victorian London which sees players battling werewolves. Also featured was Final Fantasy Versus XIII, which has now been renamed Final Fantasy XV and Kingdom Hearts 3, which has long been rumoured but never officially confirmed prior to the PS4 E3 keynote.
Also revealed was Mad Max, a game based on the iconic 80s film of the same name.
As well as AAA titles, independent developers also got a share of stage time during Sony's conference. Supergiant Games, creator of Bastion, will release its first next-gen game, Transistor for the PS4, alongside developers such as Klei, Wild Stallion and Oddworld-creator Oddworld Inhabitants which are all making independent games for the PlayStation 4.
140 games in development
Unlike with the Xbox One and Xbox Live Arcade, independent developers will be able to self-publish games on the PlayStation Network.
President of Sony America Jack Tretton said there were more than 140 games currently in development for PlayStation 4, 100 of which would launch within the console's first year on the market.
New gameplay footage for Ubisoft's Watch Dogs and Assassin's Creed 4 was also shown, as well as the first ever gameplay of Destiny, the upcoming multiplayer shooter from Halo creator Bungie.
Though Destiny will launch on Xbox One, PS4, PlayStation 3 and Xbox 360, Andrew House said Sony had finalised several exclusive content deals with Bungie for Destiny on PlayStation 4.
Sony also found time to discuss the PlayStation 3 and its struggling handheld, the PS Vita, unveiling a brand new trailer for Beyond: Two Souls, which will launch on PS3 on 8 October and confirming that ports of Flower and Final Fantasy X would be coming to Vita. The new episode of Telltale's The Walking Dead game, titled "400 Days" will also launch on Sony's handheld in the summer.