Last week the BBC released shocking pictures of Polar bear cannibalism, showing an adult bear dragging the body of a cub it had just killed along the Arctic ice before eating it.
The pictures were described as a grotesque consequence of climate change, the result of melting ice caps restricting where the bears can hunt for sea lions - their usual source of food.
While it is arguable that the melting of the polar ice caps may have led to an increase of this sort of behaviour, the fact is that cannibalism amongst animals in the wild - not just polar bears - occurs more frequently than you might imagine.
Cannibalism amongst animals occurs in many forms, even domestic household pets. A rabbit will eat her young if she gets frightened whilst giving birth, destroying all evidence that would attract predators before moving on to give birth to more.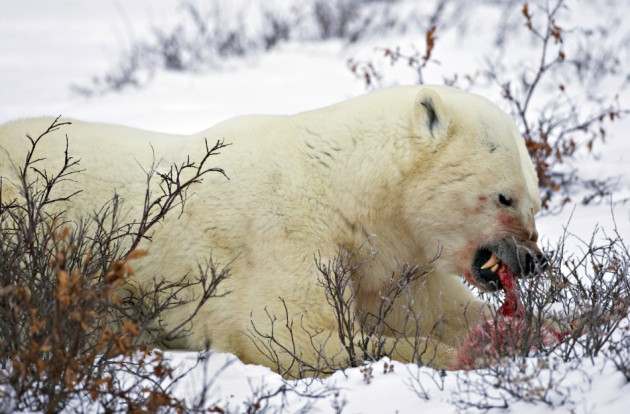 Female cats are known to kill and sometimes eat kittens from their own litter who they see as 'faulty' - sometimes displaying faults and abnormalities that humans cannot detect - as they do not want to waste time raising kittens that have little chance of survival. The reason they choose to eat them occasionally is to re-coup the energy she lost whilst giving birth.
This process is also a common occurrence for female rattlesnakes, who will eat some of their stillborn offspring in order to regain their strength before subsequent reproduction. Discovery Magazine gives an example of a study of female rattlesnakes which states that out of 190 snakes which were used in the study, 68 per cent consumed at least some of their babies.
While it is clear that cannibalism occurs frequently in the animal kingdom during the birthing process, what is more common, especially amongst insects, is cannibalism occurring during the mating process. The Australian redback spider will launch himself into the much larger female's mouth during the act in a desperate bid for greater copulation time, which most of the time will result in his death afterwards.
The praying mantis is perhaps the most famous example of cannibalistic mating process, although only occurs between 5-31 per cent of the time, whereas with the species Mantis religiosa, removing the head of the male must occur for the mating to take place properly, according to the scientific research website Serendip.
Cannibalism amongst crocodiles is also a common occurrence, with studies suggesting that up to seven per cent of all young alligators fall victim to fate (source livescience.com). Rather than being a freak occurrence, the procedure is now regarded as a necessary way to regulate the population.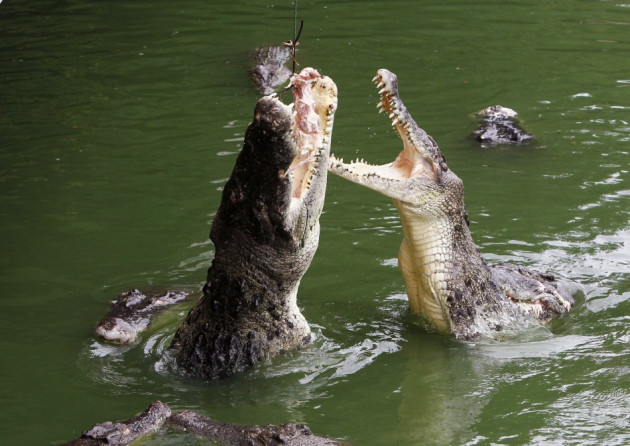 According to researchers from the Florida Fish and Wildlife Conservation Commission, even the "seemingly low rate of juvenile mortality attributed to cannibalism reported here may be an important factor in population regulation."
Cannibalism is such a natural occurrence in some species of animals that it even happens in the womb, as in the case of sandtiger shark. The sandtiger shark participates in an act known as "adelphophagy" - literally "eating one's brother" - as the stronger embryo, which already has its fangs at this point, devours its weaker siblings before it is even born, ensuring a better chance of survival in the ocean.
There are even cases where the act of killing one's own species has nothing to do with survival or a necessary part of the mating process, but just to show dominance amongst the pack.
A male lion taking over a pride will often eat the cubs of the previous male to establish the new hierarchy and hope that the lioness will come into heat sooner if she has fewer cubs to look after.
New examples of cannibalism in animals are still been discovered by scientists, especially animals eating their young. Sea lions and orangutans are two recent examples, with the incident involving orang-utans in Indonesia the first ever recording between the great ape species. Remains of infants have been found in the faeces of gorillas, as reported by the BBC in 2009, but have never been seen in action.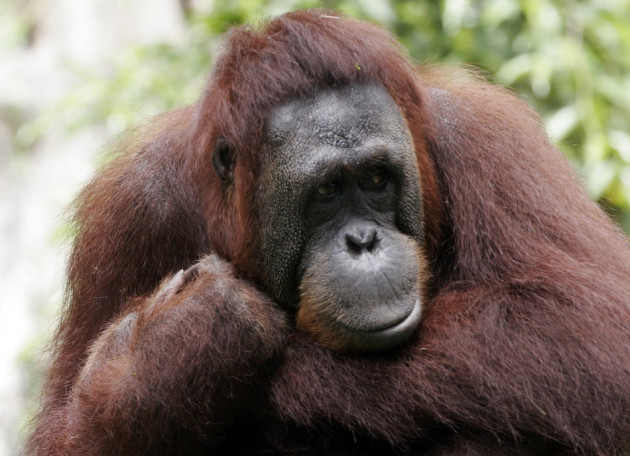 Cannibalism has now been recorded in at least 100 mammals, but it has also been recorded in birds and fish on top of the insect and reptile examples given previously.Even our closest relatives the chimpanzees have been frequently seen committing infanticide and eating their young in some cases.
While we as human will still look at cannibalism with abhorrence (and that is without even mentioned the cases in which is occurs in our species) it is a fact there are more cases of it in the wild than we like to imagine. While the pictures of a polar bear dragging a helpless cub across the sea ice before eating it may be shocking to us, this type of behaviour is going on all the time in the animal kingdom, so expect a few more examples like that of the polar bear to be coming out in the future.