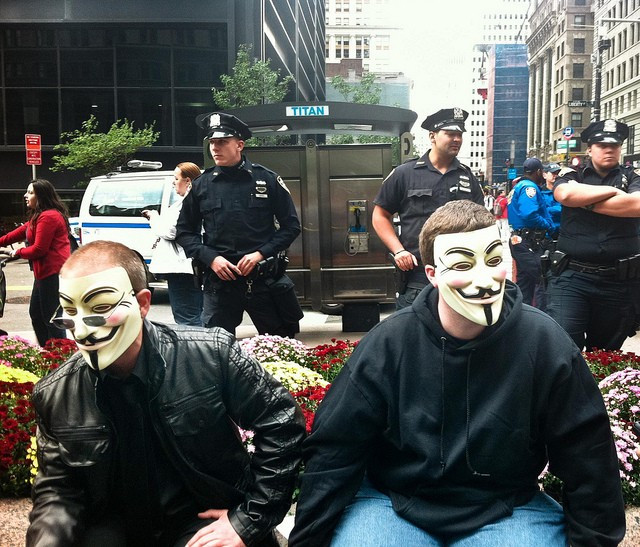 Following earlier reports that as many as seven Occupy Wall Street protesters had been arrested, Anonymous has issued a series of statements alleging police have increased their presence arresting members of the media team recording the event.
The reports came from Anonymous' AnonOps Twitter feed. The first report emerged at around 14:32 on Tuesday, alleging police had arrested two members of the media team and one other unnamed individual.
"2 members of #OccupyWallStreet media team & another person arrested for trying to use a tarp to protect communications equipment from rain," read the AnonOps tweet.
The group soon followed up the initial tweet alleging the police had confiscated some of the media team's equipment. The two tweets also included a link to a video allegedly showing the media team members' arrest.
"#OccupyWallStreet - They have the TV, now they have some of our computers - Watch arrest of the media team member >> goo.gl/aj94g" 15:16 AnonOps," read AnonOps second tweet. "#OccupyWallStreet & #TakeWallStreet - Watch Violent #NYPD arresting us >> goo.gl/aj94g."
The reported arrests come alongside numerous reports on Twitter from individuals claiming to be a part of the protest suggesting an increased police presence on Wall Street.
"Need someone checking #NYPD scanner immediately plz. Increased police presence. Something doesn't feel right. #LibertyPlaza #ourwallstreet," tweeted one protester just after Anonymous' initial tweet.
The new batch of protesters were all arrested while taking part in Adbusters' Occupy Wall Street campaign. The campaign began Saturday with around 1,000 individuals rallying in Manhattan's Financial District. The initial call-to-arms asked for 20,000.
Reports now generally estimate the number of protesters at around 200, though it is worth noting a number of claims sent to the IBTimes have since disputed this, claiming the actual number is far higher.
The campaign is reportedly being enacted to protest Wall Street's current influence on American policy. Since being announced it has garnered widespread support from numerous groups, including the infamous hacktivist collective Anonymous.
The allegedly arrested media team's video feed can be viewed here.
UPDATE: Anonymous has put out a call asking for aid to keep the live video feed running.
UPDATE: Footage has emerged showing New York Police violently arresting protesters.