Eurovision week is under way in Stockholm and the show's producers keep coming up with more twists than an Ikea flat-pack. In addition to the usual plan for three nights of television's ritziest spectacle, Justin Timberlake will be dropping by as an interval act to perform his new single, Can't Stop The Feeling.
This is a bit of a divisive one, as JT's super-smooth American sound (Cry Me A River is the best song of the early Noughties, no questions asked) is a little at odds with the Europop we know and love. But there's method in the Scandi madness. "It makes it extra special that the Swedish songwriters Max Martin and Shellback have co-written and co-produced the song together with Justin Timberlake", says Sven Stojanovic, Show Producer of the 2016 Eurovision Song Contest. Swedes have been writing the finest global mega hits since ABBA (Max Martin also wrote Britney Spears' "...Baby One More Time") so it's only fair they celebrate - but with Australia in as well, this is the least European Eurovision I think I've ever seen.
Some things are constant, however, and this year's top controversial lyrics debate is Ukraine, with Jamala's 1944. The Eurovision Song Contest has always officially been apolitical. As the rules state "No lyrics, speeches, gestures of a political or similar nature shall be permitted during the Eurovision Song Contest," but some countries love to test the boundaries.
Ukraine's entry is, beyond any reasonable doubt, about Stalin's enforced wartime deportation of the Tatar people, when he sent 240,000 Tatars on crowded trains to barren Central Asia. The opening lines are "When strangers are coming... They come to your house / They kill you all and say, / We're not guilty, not guilty." The question is, is it political now? And with Russia the bookies' favourite, could it be that Ukraine pips them to the post?
"Ukraine isn't just a talking point in advance, she's got a real chance of winning," says Karen Fricker, assistant professor of Dramatic Arts at Brock University, Canada, an academic who has written widely on Eurovision. "It got past the EBU because it's about a historical atrocity, but the song is about now as well about then, in my view."
To complicate things further, as Eurovision-watchers WiwiBloggs explain, it's all about perception. "Many Russians do not find the song anti-Russian at all," notes one of their Russian members. "Rather they see the song as speaking to a collective history of oppression and forced migration faced by many people under Stalin and the USSR." Heavy stuff, either way, the song is in the second semi-final and it'll be interesting to see how it does in the voting.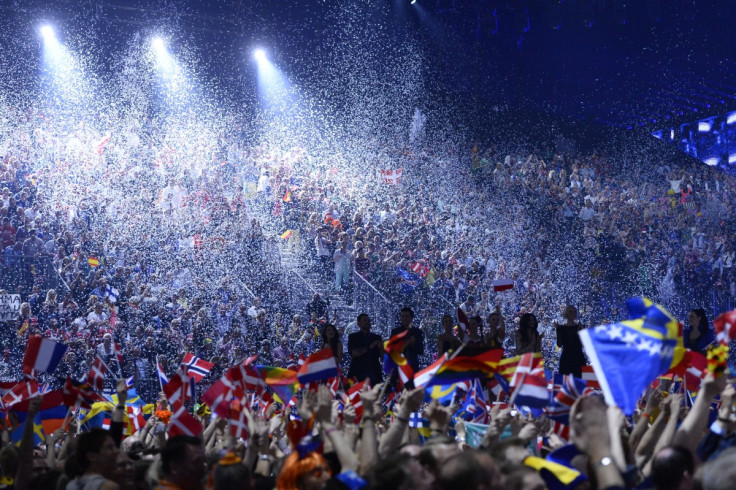 If there were a meta-Eurovision for politicisation of lyrics, Ukraine would get douze points; start your reading with this academic paper on how "Wild Dances," Ruslana's winning song from 2004, helped shape the country's post-Soviet identity - it is also a ridiculously catchy tune. In 2007, they sent Verka Serduchka, a drag character dressed as a giant human disco ball, who came second, with "Dancing Lasha Tumbai," which, some academically-minded Eurovision buffs have pointed out, sounds suspiciously like "Russia goodbye."
Honourable mentions for borderline political lyrics would go to Georgia 2009, with a catchy Disco number called "We don't wanna Put In". That was banned, possibly for offering to "shoot him... some disco tonight." And Armenia, which last year sent a song ostensibly about the massacre which saw 1.5 million people killed in the final days of the Ottoman Empire in 1915. It was later permitted after they made changes including altering the title from "Don't Deny" to "Face the Shadow." The form books indicate Ukraine tend to absolutely nail it with or without politics: check out Ani Lorak's superb "Shady Lady" which came second in 2008.
Sweden this year is generally reflecting the more sombre mood across the continent, says Dr. Fricker who is in Stockholm for the event. "The contest this year is asking the question, with the refugee crisis, Brexit, Crimea, what are we doing celebrating European ideals?" she says, comparing it to Malmö 2013, which made the most of borderless travel in much of Europe. "Three years ago, people were travelling across the bridge, using Copenhagen as the airport; now you have to show your passport to get across."
There will even be a reference to the refugee crisis in one of the interval acts (probably - things can always change depending on what works in rehearsals) again showing Sweden's willingness to be a bit more political. "How can you acknowledge there's a wider political context in the middle of a seemingly frivolous song contest? Look at the theme "Come Together," it's about the idea of opening the contest up," adds Dr. Fricker.
As political correctness takes centre-stage, there is even a policy regarding which flags the audience can wave this year. After reports that certain flags were not welcome, don't worry - wave your Welsh dragon with pride at this year's contest. "After reflection and constructive talks with several participating delegations, Eurovision Song Contest organisers have agreed to relax the flag policy, and to allow national, regional and local flags of the participants," explains an Official EBU statement. "This is in addition to the flags of all UN member states, the EU flag and the rainbow flag, as stipulated in the original guidelines."
So you'd be OK with the Welsh flag (as one of the UK singers is from Wales) and the Sami flag (as the Norwegian singer is originally of Sami heritage). The EBU also proposed a more tolerant approach to other flags as long as the audience "respects the non-political nature of the Eurovision Song Contest", and don't wave them in front of the camera. Obvs.
With more overt politics than previous years, it can be a bit of a wrench for those of us who just like to watch the costume changes, quirky instruments and voting dramas, while enjoying a massive bowl of popcorn. But, as Dr. Fricker points out, that tension has always been there. "It's always been about more than songs, it's a contest of nations." Bring it on.
---
Frances Robinson is a freelance journalist covering tech, expat living, food and beer. She lives in London and is a regular contributor to the Evening Standard's Londoner's Diary.
---