Stock up on cava, dig out your sparkliest eyeshadow and get excited: it's Eurovision time once more. All eyes are on Stockholm for this year's festival of high camp, Europop and barely repressed geopolitical tensions, with the semi-­finals on 10 and 12 May and the big night on 14 May.
Sweden won in Vienna last year, with Heroes by Måns Zelmerlöw overtaking Russia's entry in a nail-­biting twist to the voting. Home to Eurovision legends ABBA, Sweden has now won six times, meaning it is now in a position to challenge seven ­times winner Ireland for the most titles. Russia are the bookies' favourite, with France, Ukraine, Sweden and Australia (who have been invited again after their 60th anniversary special­ guest slot last year) also looking likely to do well.
But as seasoned contest watchers know, anything can happen on the night.
Before we start discussing the songs, let's start with year's offstage drama. Romania has been excluded from Eurovision ­­ and membership benefits of the European Broadcasting Union (EBU) –which oversees the event­­ –for not paying debts of CHF 16 million.
I personally am gutted, because Romania's 2010 entry, Playing with Fire by Paula Seling and Ovi, is one of my all-­time favourite numbers –­­ who can resist a light-­up perspex piano? #eurovisiongold.
Portugal are also out this year, but have already promised a comeback in 2017 after taking a break to "replace and create" their contribution. We'll keep their egg custard tarts warm.
If you think of Eurovision as a night out, Romania is that friend who's left their wallet at home, Portugal is all "c u in the club laterz hun xoxo" and the Czech Republic is the one who is non-committal with their texts and won't turn up at the last minute – even though you booked a table three weeks ago.
They came back last year after being absent since 2009, and this year are sending Gabriela Gunčíková with I Stand, written by an international team. Let's hope voters like their closely observed refrains* and they can be persuaded to stick around.
As astute readers will have guessed, I Stand, isn't in Czech. In fact, this is one of the most anglophone years in history. Dave Keating, an American journalist based in Brussels who I had the pleasure of hanging out with in Copenhagen while covering the contest, has crunched the numbers and says it's the most English-­speaking year since the requirement for countries to sing in their own languages was ended in 1999, with 36 out of 42 entries entirely in English.
"Only two non ­English­-speaking countries are singing songs completely in their native language," he says. "Even the countries that have long been holdouts against the English tide have given up the fight this year. France and Italy are fielding songs with the chorus in English, and Spain's entry is completely in English."
He believes it's good for the contest overall: "As an American, I only discovered Eurovision when I moved to this continent in 2006... Looking at those old contests from the 80s and 90s, I don't think I would have gotten into the contest back then."
He adds: "I think that if we re­imposed the language restriction, we'd be back in those Eurovision dark ages."
As much as I like and respect Keating­­ who, in the right wig, has an uncanny resemblance to Conchita Wurst, ­­ I have to disagree. In monolingual England, watching Eurovision every year was a fun way of getting exposed to foreign languages growing up — and singing in different languages reflects Europe's linguistic diversity.
Also, if you turned the BBC subtitles on, it gave you the English translation, or the nearest approximation (think "la la la la la le le lo lo lo"), which obviously wasn't an option in the US, where Eurovision is being broadcast on live TV for the first time finally this year.
In my first week at university studying languages, many of us discussed how Eurovision had changed our lives (in the case of one straight male friend, Iceland 1997 specifically).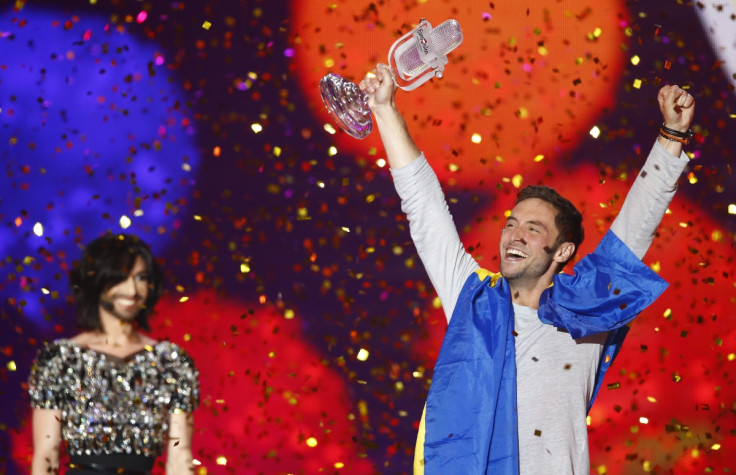 The other thing we all remembered about 1997 was the UK winning, with Katrina and The Waves. This year, as usual, people are asking, can we do it again? My answer, as usual, is we don't take it seriously enough. Look at the controversy surrounding recent remarks about the late, great Terry Wogan.
As much as I loved his comedy genius remarks, there's a wider culture in the UK of seeing it all as a big joke (do you remember the year we sent Daz Sampson?).
Compare this with Sweden's approach. Winning Melodifestivalen, their national selection show with dozens of acts and multiple rounds, is a huge achievement. In the UK, this year we had a public vote and at least managed to send someone (in fact two people) less than 400 years old. However, as cute as Joe and Jake are, they're not a fine-tuned, turbo­-fuelled, glitter­-encrusted Scandi pop machine.
I'm going to attempt a sports metaphor: it's the difference between sending a Premier League squad with Lionel Messi as visiting guest coach, after an intensive six­ week football training camp, and sticking a bunch of guys from a local five-­a­-side on a plane with some new socks.
No offence to Jake or Joe, or pub football teams, but unless we put some more effort (and money) in, this will carry on. I would love to be proved wrong and see them win, or, failing that, victory for the Serhat, a cosmopolitan crooner with Turkish roots who swapped dentistry for showbiz and is representing San Marino with the greatest disco tune Serge Gainsbourg never wrote.
Of course, if you asked the average fan what's political about Eurovision, they'd probably mention LGBT rights. From the vast number of rainbow flags being waved in the audience, to Israel's 1998 winner ­­ and trans woman ­­ Dana Internatinal, and 2014's magnificently bearded Conchita Wurst, the contest has been a space for pushing boundaries, as this France24 article explains better than I can.
It will also raise a lot of questions if, as looks likely, the contest goes to Russia next year.
The EBU has been increasingly been recognising the societal role of this apparently apolitical competition: last year, it hosted a 60th anniversary conference to look at how Eurovision "has been used as a platform of expression for diverse communities, to create national and European identities and as a tool for nation branding".
That's enough politics for now. Next time we'll discuss banned lyrics, this year's most controversial entry, the Balkan factor and which flags you can wave in the audience. In the meantime, you should enjoy two of this year's aquatically­ themed entries, Malta's bouncy Europop number "Walk on Water " and Norway's Agnete inspired advert for the country's shipping industry: "I'll be your icebreaker / When you're stuck in frozen water."
*Possibly the only Bohumil Hrabal joke you'll read anywhere in Eurovision coverage, now or ever. Sorry.
______________________________________________________________________________________________________
Frances Robinson is a freelance journalist covering tech, expat living, food and beer. She lives in London and is a regular contributor to the Evening Standard's Londoner's Diary.
______________________________________________________________________________________________________