Former Premier League referee Graham Poll believes Andre Marriner is the right man to officiate the 162nd Manchester derby between Manchester City and Manchester United at Eastlands on Monday night.
Marriner, who oversaw United's controversial win against Liverpool this season - a game dominated by the Patrice Evra-Luis Suarez race row, has attracted criticism from Ferguson in the past but Poll insists the referee has the right temperament to thrive in such a high-profile encounter.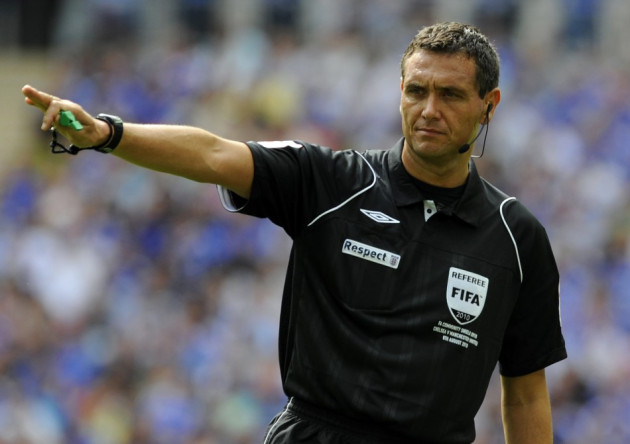 "Andre Marriner is a good referee who stays calm when everybody else around is losing their composure and it is that quality which might have got him the nod to referee Monday night's key game, ahead of some of his colleagues," Poll told the Daily Mail.
"One or two other referees will be envious but surprisingly the majority will be glad they have not got the game - the fear of failure often outweighs the desire to succeed.
"As a referee you are well aware of the enormous importance of some games - and in my memory of the Premier League there has been no more important or built-up game."
Ferguson was unhappy with Marriner's performance when Manchester United lost 2-0 to Liverpool at Anfield in 2009, claiming the referee was intimidated by the home crowd but Poll remains adamant the official will not let such concerns affect his performance at Eastlands.
"He will be considering whether there was anything left over from the previous two meetings this season, looking at any players who have played for both teams and making himself and his team aware of any issues between the managers and their backroom staff," added Poll.
"Then he will consider the likely tactics of both teams in the early stages and start to form a game plan, to work out his approach.
"This will be finalised once the team sheets are in and line-ups confirmed and finely tuned after his warm-up on the pitch, when the referee can feel the mood of the players.
He added: "The atmosphere is something he will need to draw inspiration from and be motivated by. His game plan will be formed but he will know that the best referees are always ready to change those plans in an instant, following a poor challenge or mass confrontation, or even a tunnel bust up.
"One thing that is for sure is Marriner will be hoping that his name is not in the papers on Tuesday."
Manchester City will top the Premier League on goal difference with just two games to go if they beat Ferguson's side this evening and City manager Roberto Mancini believes victory could see the club dominate English football for many years to come.
"It is important that we don't win just one championship. I want to leave a legacy," Mancini told the Daily Mail.
"Our targets should be to match the achievements of United, Barcelona and Real Madrid in the future. I think that Manchester City are set up now to win many trophies. That has to be the target.
"Manchester City will be a top club for many years and I think the team that starts next season will be stronger than the one that finishes this season.
"One of the things that attracted me to City was the chance to change their history."