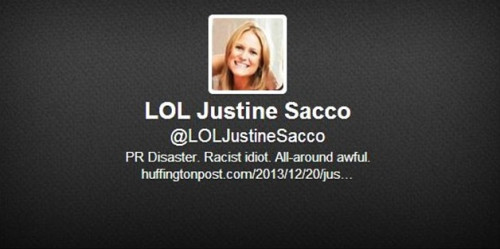 Shamed PR executive Justine Sacco has been sacked after her racist tweet caused a Twitter storm.
Sacco made a tasteless and offensive joke about the Aids crisis in Africa provoking the anger of Twitter followers around the world as her racist tweet went viral.
Here is the offending tweet: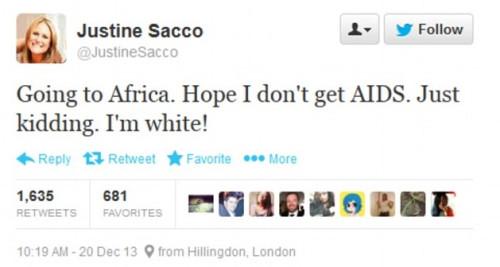 The post was retweeted over 3,000 times and was picked up by media outlets around the world, however Sacco remained completely unaware of the furore as she was mid-air on a flight to Cape Town, South Africa.
The hashtag '#hasjustinelandedyet' was trending on Twitter around the world as thousands awaited Sacco's response.
She was blasted for being "outrageous" and "inappropriate", with titles like "Worst Tweet of the Year".
Twitter user Stephanie Be wrote in response: "WOW! Reinforce the ignorant American stereotype much?"
John M. Becker tweeted: "Are you even real?!? This is utterly ghastly on so many levels."
Josephine Baker wrote: "'listen, homegirl is about to be FIRED."
While the PR executive has since said she was "ashamed" over her actions and claimed she has been "cavalier", her own father branded her a "f****** idiot," and backed the campaign to name and shame her. It has emerged that he moved his family from Cape Town to the US in 1994 to escape racism at the end of apartheid.
Issuing a statement to South African newspaper The Star, Sacco has publicly apologised for her tweet.
The statement read: "My greatest concern was this statement reach South Africa first.
"Words cannot express how sorry I am, and how necessary it is for me to apologize to the people of South Africa, who I have offended due to a needless and careless tweet.
"There is an Aids crisis taking place in this country, that we read about in America, but do not live with or face on a continuous basis. Unfortunately, it is terribly easy to be cavalier about an epidemic that one has never witnessed firsthand.
"For being insensitive to this crisis -- which does not discriminate by race, gender or sexual orientation, but which terrifies us all uniformly -- and to the millions of people living with the virus, I am ashamed.
"This is my father's country, and I was born here. I cherish my ties to South Africa and my frequent visits, but I am in anguish knowing that my remarks have caused pain to so many people here; my family, friends and fellow South Africans. I am very sorry for the pain I caused."
Sacco who was the head PR representative of IAC, which owns several websites including Match.com, Vimeo, OkCupid, and Tinder, has been dismissed by her employers, who condemned her behaviour as "outrageous" and confirmed that they have "parted ways with the employee in question".
"This is an outrageous, offensive comment that does not reflect the views and values of IAC," the company said in a statement.
"Unfortunately, the employee in question is unreachable on an international flight, but this is a very serious matter and we are taking appropriate action," a representative from IAC told IBTimes UK.
Huffington Post stated that there is a possibility that the communication officer's account may have been hacked, however previous tweets by Sacco are similarly offensive, including inappropriate comments sent directly to Peta, in which she said she suggested she would skin an animal for its fur to beat the cold.
Sacco is now thought to be in hiding with her family in South Africa and will be contemplating her future after becoming the most loathed person on Twitter.