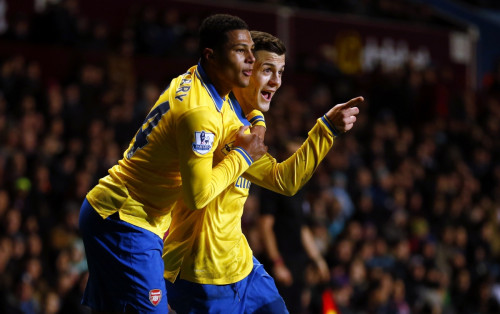 Aston Villa 1 - 2 Arsenal (FT)
Aston Villa's Nathan Baker carried off on a stretcher with mild concussion
Jack Wilshere and Olivier Giroud score within 59 seconds of one another to take Arsenal 2-0 up in the 35th minute
Christian Benteke scores with a header to take Villa to 1-2 in the final 15 minutes
Arsenal go back to top of the table after the win
Cristiano Ronaldo has won the 2013 Ballon d'Or
10:01pm: And that's wrap folks! It's full time at Villa Park and Arsenal have come out the winners, holding on to their precious lead to take out the match 2-1 and go top of the table. Thanks for joining us!
10:00pm: A yellow for Jack Wilshere. looks like there's not much time for Villa now...
9:58pm: We're well into extra time now and it's end to end stuff.
9:55pm: A big attempt on goal for Benteke with another header but this time the keeper is too quick for him. Is it too little too late for the Belgian in this match?
9:52pm: Looks like that blood nose for Rosicky is going to take him off the pitch and Alex Oxlade-Chamberlain is set to make his long-awaited return to the pitch. There's only minutes left but it'll be a good run for the youngster as he gets back to full match fitness.
9:50pm: A yellow card for Gabriel Agbonlahor for tripping Mesut Ozil.
9:48pm: Rosicky is back up and the game is in full flight again with Benteke looking particularly confident. Arsenal have brought this pressure on themselves and should have shut the game down earlier than this. At the start of the second half they were looking to build on their goal difference, and now they just want to get the three points.
9:45pm: Tomas Rosicky is down after a clash with Agbonlahor and is receiving treatment for a bloody nose. Villa meanwhile are throwing their men up front in the hopes of causing an upset.
9:41pm: The game is looking much more open now, can Villa save this one?! On stats it would seem impossible but they have had their chances with such limited possession...
9:39pm: GOAL! Looks like we spoke to soon! Christian Benteke puts Aston Villa within touching distance of Arsenal's scoreline thanks to a huge header, taking the game to 1-2!
9:37pm: One player who has been particularly poor tonight has been Christian Benteke. The Aston Villa man nearly left in the summer and hasn't been the same player since. And against Arsenal he certainly doesn't look in the same class as the top four clubs that were reportedly interested in his signature in the last transfer window.
9:33pm: And another change for Arsenal, with Wenger taking off Serge Gnabry for Tomas Rosicky.
9:31pm: Monreal comes off - likely still feeling the effects of that tackle from Ron Vlaar - and is replaced by Kieran Gibbs.
9:28pm: It's 6 shots a-piece for Arsenal and Aston Villa but the Gunners are still enjoying the mojority of possession with 68%. Arsene Wenger's men look to be in control as we enter into the final half hour.
9:22pm: Nacho Monreal is down after bolting into the penalty box and being on the receiving end of a tackle from Ron Vlaar.
9:20pm: Bacuna is getting in the Arsenal defender's faces in this half and has another shot on goal blocked. The Gunners are straight down the other end but as Monreal finds Ozil he's caught offside.
9:17pm: Leandro Bacuna has also had a shot saved for Villa and the side are looking much improved. Still a long time to go yet!
9:12pm: Aston Villa are swinging the advantage their way early and look to have a lot more energy than coming to the end of the first half. They now have four shots to Arsenal's five and the stats are slowly going their way again...
9:08pm: And we're off!
9:02pm: Jack Wilshere has been at his best for Arsenal tonight. Aston Villa's defence hasn't been great and the midfielder has taken full advantage as his opening goal would attest.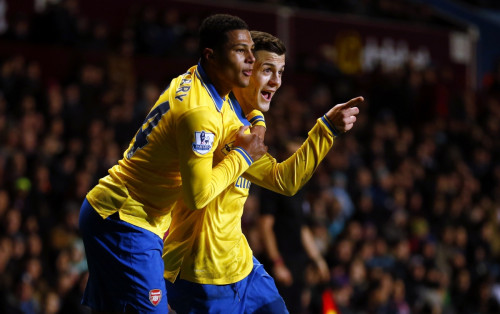 9:00pm: In that first half Arsenal saw the ball a whopping 71% of the time compared to Aston Villa's 29%. Should this continue in the second half, the Gunners have a chance to capitalise on this and build on their goal difference, which is currently 13 behind Manchester City.
8:54pm: And that, finally, is half time folks! Arsenal looking very dominant as they lead Aston Villa 2-0. One thing's for sure - Villa fans are NOT happy with their team's performances and are making their feelings loud and clear. And with Paddy Power currently circulating odds of 22/1 for a draw, it's certainly a long way back for Paul Lambert's men.
8:52pm: Both teams having a crack but neither with a clear-cut chance at the moment. The space Villa have given Arsenal this half has been almost criminal.
8:46pm: not often you see that - eight minutes added time in the first half at Villa Park.
8:45pm: Villa fans are not happy at how their side are playing and who can blame them; Arsenal are currently boasting 72% possession.
8:42pm: BBC Sport are reporting that Nathan Baker has a mild concussion and it's not serious. Some positive news for Villa.
8:40pm: Two shots on target, two goals. Arsenal have been so much more clinical this season but Aston Villa haven't taken control of this game at any point and they were bound to be punished eventually.
8:35pm: GOAL! Arsenal go 2-0 up within a minute! Olivier Giroud is on the ball this time and it's all the Gunners on the scoreboard. Can Villa come back from this? Unlikely.
8:33pm: GOAL! Arsenal go 1-0 up thanks to Jack Wilshere in the 34th minute. Mesut Ozil has a big hand in this, passing brilliantly to find Nacho Monreal who cuts to Wilshere and the England man slots it in.
8:33pm: A yellow card to Nacho Monreal for a foul on Gabriel Agbonlahor as he takes off on the counter attack.
8:30pm: Arsenal still continuing to dominate possession but Villa have settled into the match more and are holding their own a lot better than in the beginning.
8:24pm: Villa are getting more into the game after that unfortunate change and have a decent chance thanks to Fabian Delph and Karim El Ahmadi.
8:20pm: Looks like that shot was more than blocked by Nathan Baker and the Villa man looks to have been knocked out. He's taken off on a stretcher to a standing ovation in the crowd. Leandro Bacuna comes on as a replacement.
8:17pm: An attempt from Arsenal youngster Serge Gnabry is blocked - this youngster has a lot to prove after a breakthrough performance against Tottenham at the start of the year. Can he push for his first senior goal tonight?
8:14pm: Christian Benteke hasn't scored for Aston Villa since September 14th against Newcastle. The striker is certainly due to add one to his tally and he sets up Fabian Delph despite Arsenal holding all the possession but it's a fruitless shot.
8:12pm: At present Arsenal have 77% possession. This is a dangerous game Aston Villa are playing at...
8:09pm: And Arsenal are continuing to dominate over the course of the first 10 minutes with Olivier Giroud having two shots on goal. None on target but it's the Gunners who are looking more likely to score at the moment.
8:04pm: A corner already for Arsenal, who are looking in control of their game early. while Aston Villa's Karim El Ahmadi receives a yellow card for a rough tackle on Jask Wilshere.
8:00pm: And we're off!!
7:45pm: Aston Villa haven't defeated Arsenal at home since 1998 - can they break an almost 16-year streak tonight?
7:35pm: Meanwhile earlier today Cristiano Ronaldo beat off competition from Lionel Messi and Franck Ribery to take out his second Ballon d'Or. You can read about all the details of the swanky FIFA night out here.
7:31pm: Aston Villa's view from the table is looking slightly different to Arsenal's but the side will be hoping to take an important home win tonight as well. The Villans are currently eleventh in the table but are just five points off the relegation zone - a cushion the side would like to increase the size of tonight. The side came very close to the drop last season and while the ship has been steadied in the current campaign they have won just won game in their last six, in their most recent match-up with Sunderland.
7:28pm: Taking a look at what this means to Arsenal tonight, the side are currently third in the table but just a point behind Chelsea and two behind current leaders Manchester City. Should they win, they'll go one point clear at the top - a draw and the Gunners will be equal with Chelsea on both goal difference and points. It's a tight race at the top even without Manchester United's usual presence and with Liverpool just five points behind top place Wenger will be very keen to get a fourth league win in a row on the board.
7:26pm: Meanwhlie for Aston Villa Ron Vlaar and Nathan Baker were both doubts at the start of the week but both appear fit and ready to play as Lambert included them in his starting XI. Brad Guzan and Gabriel Agbonlahor are back in action as well after overcoming minor injuries and Ciaran Clark is back in the line-up after serving a suspension.
7:26pm: Alex Oxlade-Chamberlain has made the bench tonight for the Gunners after the youngster had a lengthy injury spell on the sidelines. Without Theo Walcott to call on Wenger will likely give Chamberlain a chance at some point tonight while Mikel Arteta's absence from the line-up is reportedly due to a calf injury.
7:25pm: Line-ups for tonight are confirmed as the following:
Aston Villa: Guzan, Clark, Vlaar, Baker, Lowton, El Ahmadi, Delph, Westwood, Luna, Agbonlahor, Benteke. Subs: Bacuna, Helenius, Weimann, Albrighton, Steer, Sylla, Tonev.
Arsenal: Szczesny, Sagna, Mertesacker, Koscielny, Monreal, Wilshere, Flamini, Gnabry, Ozil, Cazorla, Giroud. Subs: Rosicky, Podolski, Oxlade-Chamberlain, Fabianski, Jenkinson, Gibbs, Park.
7:25pm: Good evening and welcome to the IBTimes UK live coverage of Aston Villa v Arsenal. An important game for both sides, the Gunners will be looking to get back on top of the Premier League table while Paul Lambert's men hope to further assert their safety in the top flight.