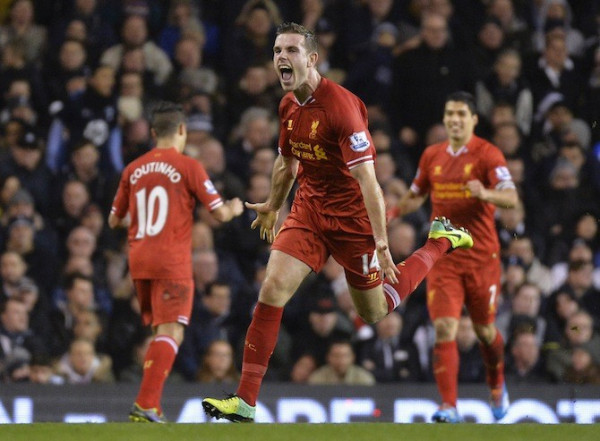 Aston Villa 0-3 Manchester United (FT)
Tottenham 0-5 Liverpool (LIVE)
5:52pm: And that's a wrap folks, hope you've enjoyed today's Premier League coverage. Manchester United and Liverpool both taking convincing victories while Norwich and Swansea drew in a hard-fought match, it's certainly been an exciting day!
5:50pm: Andre Villas-Boas has been dealing wth a lot of pressure over his job, and it all started with the 6-0 thrashing at the hands of Manchester City. But this is a thrashing at home, and the manager will have a lot of questions to ask after once again looking unsettled with his preferred starting XI.
5:47pm: GOAL! And it doesn't stop there! It's Raheem Sterling this time, Tottenham have completely collapsed. Their offside trap doesn't work and the youngster is able to pull away and slot home.
5:42pm: GOAL! Luis Suarez piles on the pain with a second goal and it's now 4-1 at White Hart Lane. Assist goes to Luis Alberto with the Uruguayan making it look easy as he chips over Hugo Lloris.
5:40pm: Coming into the final 10 minutes, and this scoreline only looks like it's going to continue to go Liverpool's way.
5:36pm: Small change for Liverpool as Lucas is taken off for Luis Alberto but it would appear the side have this game in the bag now.
5:32pm: GOAL! Liverpool all but put an end to the game as youngster Jon Flanagan makes it 3-0 with a strike from close range. of course Suarez had a hand in it, providing the assist.
5:26pm: Frustration building for Tottenham as Lewis Holtby is handed a yellow for a challenge on Joe Allen.
5:24pm: It's very much an uphill battle for Tottenham now. Supporters have rued their lack of goals since Gareth Bale left, and unfortunately at a time like this it's obvious once again that they miss his spark. Soldado is working hard but with just 10 men on the pitch now, when he struggled to score with 11, Liverpool are in the driving seat.
5:21pm: RED CARD! Paulinho is sent off and Tottenham are in even more trouble now. Once again Suarez was instrumental in the play, with the Brazilian fouling the striker with a high foot.
5:18pm: Townsend is on for Dembele. Tottenham are getting into more of an attacking frame of mind but still nothing on target for the side.
5:09pm: Roberto Soldado is still in the mix even if Tottenham are yet to have a shot on target. It would seem unlikely that Villas-Boas would be disappointed in his efforts with the midfield being absolutely bossed by Liverpool. Andros Townsend is currently warming up.
5:07pm: Oh dear - back in action at White Hart Lane and Mamadou Sakho has a shot just outside the net, but heads it into the post. This scoreline isn't representative of how dominant Liverpool are right now...
5:03pm: Villas-Boas has taken off Kyle Naughton - who has been disappointing - for Ezekiel Fryers. The side will have likely had a dressing-down by Villas-Boas at half time but whether they can come back from a 2-0 disadvantage is a big ask, particularly when the side have struggled in front of the net this whole season.
5:00pm: Here's Luis Suarez beating Hugo Lloris to get the ball into the net as Liverpool dominate Tottenham across the pitch:
4:47pm: It's half time at White Hart Lane and Liverpool are certainly in the driving seat in this one. Can Spurs make a comeback in the second half?
4:45pm: Spurs do respond indeed but Soldado has a goal disallowed after looking like he fouled Simon Mignolet. Very frustrating for Tottenham.
4:40pm: GOAL! Jordan Henderson doubles Liverpool's lead over Tottenham in the 40th minute. Apart from Suarez he's been a standout player for the Reds in this game and the midfielder finally gets the reward he deserves. For Tottenham, Hugo Lloris seems to be the only player working hard in defence. This could get a lot worse for Villas-Boas if his men don't react quickly.
4:37pm: It seems like Hugo Lloris and Luis Suarez are getting all the action at the moment, and while the keeper has made good saves today he has also made a few mistakes that Tottenham are lucky hasn't cost them dearly.
4:31pm: So close! Suarez once again makes a mockery of Tottenham's defence and passes to Philippe Coutinho, who hits the crossbar with his efforts. Spurs have a lot of work to do to get back in this.
4:29pm: Andre Villas-Boas is known for making quick changes when things aren't going as planned and he's bringing off Sandro for Lewis Holtby right now. Will it make a difference?
4:25pm: Tottenham are playing far from their best right now and appear to be unable to stop Suarez as Andre Villas-Boas had instructed them to do during the week. The side have had no shots on target and just two compared to Liverpool's five at the net.
4:18pm: GOAL! Luis Suarez gets one on the borad for the Reds and maintains his stance as the Premier League's top hitman. Big mistake from Michael Dawson there as he struggles to clear the ball, and Jordan Henderson takes advantage of this to pass to the prolific striker.
4:16pm: A chance for Suarez! The striker has a shot from the edge of the box but it's deflected wide.
4:12pm: Jon Flanagan has been impressive for Liverpool recently with the youngster receiving more appearances in December than the rest of the season as cover for the injured Jose Enrique. Today is a big chance to prove he's capable of going forward with the club, but he's looking slightly shaky at the moment.
4:10pm: Tottenham settling into the game with the only real chances on goal so far in the first 10 minutes.
4:03pm: Liverpool in more control than Tottenham early on but Roberto Soldado is getting into the mix. The Spanish striker scored a hattrick during the week in the Europa League and will be looking to justify his selection over Jermain Defoe today.
4:00pm: And we're off!
3:55pm: It's five minutes until kick off at White Hart Lane. Liverpool are out to prove they can mount a serious challenge against the top sides in the Premier League while for Tottenham, this is the continuation of rebuilding as Andre Villas-Boas remains under pressure over his job.
3:25pm: And a wrap at Norwich too with the sides ending in a 1-1 stalemate. Both had their chances but were unable to take all three points.
3:22pm: Interesting words from former Aston Villa striker Dean Saunders on BBC 5 Live, who claims that his old club's strikers aren't working hard enough.
"I remember when I was a kid and I didn't chase the goalkeeper and my youth coach sent me home for a week and told me not to bother coming back until he phoned me. As a striker you've got to run and they don't work hard enough."
3:19pm: And that's a wrap at Villa Park. An important win for United while Aston Villa were bossed by the side across the pitch. That's David Moyes' first win in five games and with a clean sheet as well it will serve as a very big confidence boost for a side who until today were spiralling into trouble.
3:12pm: Things are slightly more exciting over at Norwich with MIchel Vorm being called into action as the home side pepper the goal.
3:10pm: Danny Welbeck is handed a yellow card for going down too easily after a challenge from Nathan Baker. Baker is also handed a yellow for the challenge. Slightly strange but it's been a strange day all round at Villa Park.
3:06pm: Tottenham's line-up has also been released:
Lloris, Walker, Capoue, Dawson, Naughton, Paulinho, Sandro, Lennon, Dembele, Chadli, Soldado.
Subs: Friedel, Fryers, Holtby, Lamela, Townsend, Sigurdsson, Defoe.
3:02pm: Liverpool have confirmed their starting line-up to face Tottenham today:
Mignolet, Flanagan, Sakho, Skrtel, Johnson, Allen, Lucas, Henderson, Sterling, Coutinho, Suarez.
Subs: Jones, Kelly, Agger, Toure, Moses, Aspas, Alberto.
Luis Suarez will captain the side in Steven Gerrard's absence.
3:00pm: Swansea's keeper Michel Vorm has just been booked for time wasting as the side hope to hold onto their lead against Norwich.
2:59pm: United make their substitutions and Ashley Young and Darren Fletcher come on for Ryan Giggs and Adnan Januzaj.
2:55pm: Darrent Fletcher is reportedly getting ready to come on for Manchester United. It's a year since he last appeared on the pitch for the side.
2:52pm: Swansea are still controlling the possession at Norwich but aren't making much of it. The Canaries have had far more shots on goal, but neither are looking particularly dangerous at this stage.
2:48pm: While Villa fans will be disappointed with the result at the moment the side have been performing better than you might think - they've had as many chances on goal as United with 11 each and five shots on target compared to United's four. Their inability to convert has let them down so far.
2:45pm: Here's Danny Welbeck celebrating his goals for United with a side that are once again playing like a team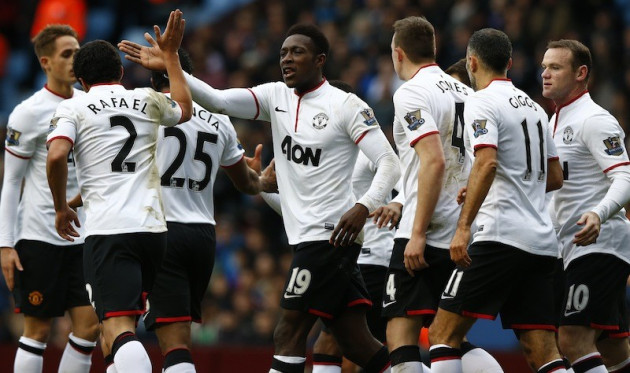 2:39pm: GOAL! Tom Cleverley puts United up 3-0 against Aston Villa and the side are looking back to their title-winning selves today. Assisted by Wayne Rooney the midfielder ansers his critics with perfect positioning and slots the ball straight past the Villa keeper into the back of the net.
2:37pm: Things get a little pushy between David de Gea and Gabriel Agbonlahor at Villa park and both receive a red card as a result. for the latter the card means he's suspended for Villa's next game.
2:36pm: From the official Swansea twitter account on Nathan Dyer: "INJURY UPDATE - Nathan Dyer has a suspected fractured ankle, and is on his way to hospital. Everyone at the club sends their best wishes."
2:32pm: The players are out and it's back on for United and Aston Villa, and Norwich and Swansea.
2:20pm: It's half time people! and Aston Villa will be very pleased about that as they look to regroup against a dominant United. Meanwhile for Norwich their equaliser will give them much hope that they can overcome Swansea's dominant possession in the final 45 minutes and get a home win.
2:18pm: GOAL! Norwich even the scoreline with Swansea as Gary Hooper scores for the fourth time in the last six league matches.
2:13pm: Looks like Nathan Dyer is coming off for Swansea after hurting his ankle in a challenge from Sebastien Bassong. Stretchers are out for the goal scorer and Alejandro Pozuelo is brought on as his replacement. Dyer has been a tough force for Swansea in this game and without him Norwich could have the advantage.
2:11pm: Swansea are currently dominating in possession but they haven't been able to build on it with decent chances. The side are taking full advantage of their Barcelona-esque passing skills and Norwich fans are finding it far from entertaining.
2:07pm: Antonio Valencia is another player who has come out of his shell for United today and is displaying brilliant form alongside Welbeck. It's hard to picture Villa coming anywhere near scoring in this first half, can they regroup during half-time?
2:00pm: United are looking well and truly settled now at Villa Park, but the side's record here is certainly one to be envied for any team travelling to face Paul Lambert's men. Their last home league win over the side was 18 years ago and at the moment that doesn't look like it's about to be broken.
1:57pm: Meanwhile over at Norwich Swansea are still loking dominant, with Mich having a fair chance on goal as the side push to double their lead. The Swans have so far had double the chances on goal than their opposition with 6 shots to 3. Only one on target so far, and it's been the lethal one.
1:49pm: GOAL! Danny Welbeck makes it two goals and the striker is looking very dangerous against Aston Villa today! The striker beats Januzaj to the ball and converts a cross from Antonio Valencia to score a brace within three minutes for United.
1:48pm: That's Danny Welbeck's third goal in the league for United this season with his last one coming on August 17th against Swansea, when the England international scored a brace. Is he set to finally prove himself in front of the net? It certainly couldn't come at a better time to do so with Robin van Persie out injured.
1:46pm: GOAL! Danny Welbeck opens the scoring account for United at Aston Villa with a goal after Adnan Januzaj's header hits the post. Good start agains tthe general run of play for the Red Devils.
1:43pm: GOAL! Swansea pule the pressure on Norwich within 12 minuts as Nathan Dyer finds the back of the net.
1:40pm: The first 10 minutes gone and we're yet to see a goal from either game - though Aston Villa have had two shots on target compared to United's nill. David Moyes will be hoping his side can be much more dominant than this as they settle into the match.
1:30pm: And we're off!
1:27pm: A big injury boost for United has been Darren Fletcher's return to the bench today with the midfielder hoping to mount a second comeback from a bowel ilness that has left him out of actino for long periods of time. BBC Sport reports Moyes speaking of his delight at Fletcher's return: "It is great news for Darren Fletcher to be back but great for anybody who has had an illness. He has trained for two or three months and we've been thinking of when to give him the opportunity to play, which was today."
1:22pm: For Aston Villa today the biggest challenge will be to get Christian Benteke firing again. The striker, reportedly wanted by Arsenal and Tottenham, has now gone 10 and a half hours without a goal and has scored just four times in the league.
1:14pm: Meanwhile over at Norwich the side are hoping that three points will give them a serious boost in the table, currently sitting just four points away from the relegation zone. Swansea might be in 10th place but the Welsh outfit are only two points ahead of their opposition and gaining points over the Christmas period will be particularly important for both sides as they aim to be in a very safe position come the business end of the season.
1:11pm: While David Moyes has been shouldering much of the pressure over the club's results in the absence of Sir Alex Ferguson Aston Villa manager Paul Lambert believes that the manager was always going to find the job difficult at first. "I think people are getting carried away with where they are in the table,' he said. "They are still a very good team. Let's face it, any manager going in there would have found it hard. So I think the criticism David has received is over the top.
"You can't even afford to draw matches. Those are the standards Manchester United have set over the past 20 years under Sir Alex Ferguson."
1:06pm: United's recent form has been well documented but after successive losses to Everton and Newcastle this game is an absolute must-win for the side as they look to get back into the mix for the title. It would appear it's no longer realistic that the Red Devils will keep their title but a top four finish will be an absolute minimum for the club who are a regular feature in Champions League football.
1:01pm: Line-ups for Norwich v Swansea
Norwich: Ruddy, Whittaker, Bassong, Turner, Olsson, Howson, Johnson, Fer, Redmond, Elmander, Hooper.
Swansea: Vorm, Rangel, Amat, Williams, Ben Davies, Dyer, Shelvey, de Guzman, Canas, Hernandez, Michu.
1:01pm: Line-ups for Aston Villa v Manchester United
Aston Villa: Guzan, Lowton, Clark, Baker, Luna, Westwood, El Ahmadi, Sylla, Albrighton, Agbonlahor, Benteke.
Manchester United: De Gea; Rafael, Jones, Evans, Evra; Valencia, Cleverley, Giggs, Januzaj; Rooney, Welbeck.
1:00pm: Good afternoon and welcome to the IBTimes UK live blog for the Premier League's Sunday fixtures. Today Manchester United are hoping to turn the tides on their poor start to the seaosn with a win over Aston Villa, while Norwich and Swansea square off with both sides looking to be in a safer position in the table. Later, Tottenham and Liverpool will face off with the winner taking a firmer hold of a top four spot and the huge prize of Champions League football that comes with it.