Premier League strugglers Crystal Palace 'preparing for the Championship' admits co-owner Steve Parish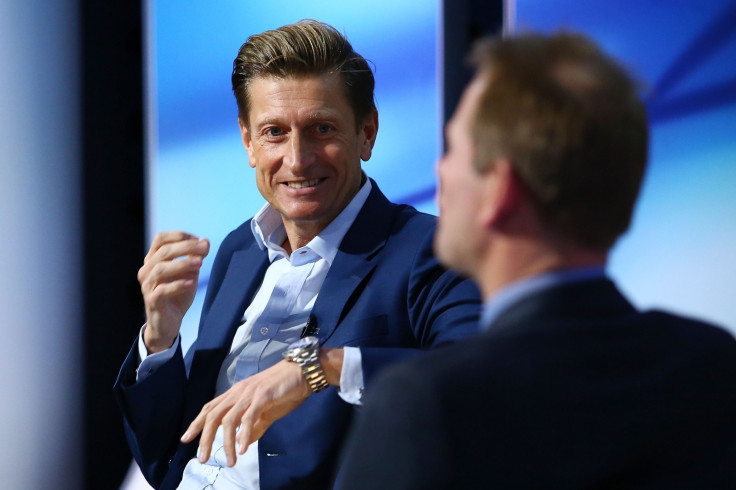 KEY POINTS
Only goal difference separates the Eagles from the bottom three with 10 games remaining.
Roy Hodgson's side face Manchester United, Chelsea and Liverpool in three of their next four games.
Parish confirms Palace will be voting against the introduction of the video assistant referee in the Premier League.
Crystal Palace are braced for relegation from the Premier League and are preparing for life in the Championship next season, according to co-owner Steve Parish.
Only goal difference separates the Eagles from the bottom three with 10 games to go with as many as 10 sides battling for survival in the twilight of the campaign.
Defeat to Tottenham Hotspur on Sunday [26 February] begun a run of games which sees Roy Hodgson's men face four of the current top five, with Manchester United and Liverpool's visits to Selhurst Park next month sandwiching a trip to defending champions Chelsea.
The current £5.1bn television rights deal – which is currently in the process of being renewed – saw Palace earn £109m last season and with that amount due to be reduced if they suffer relegation Parish has no choice but to lay the foundations for a season back in the second tier.
"People ask me 'what am I doing right now?' I say I am preparing for the Championship," he said at the Sports Industry Business Club. "Given there is very little I can affect, it is down to the players. I know it, they know it. I can't start thinking about it when it happens.
"When you get to this compressed part of the season the more it will come down to luck and good fortune. We have to plan for those eventualities and within that we look at the stadium, the academy, all the plans that we have got. What ones can we fulfil, what ones can't be fulfil?
"But that is the job of running a football club.
"No-one wants it to happen to them. There will be cuts in your football club. You know there will be changes, it affects every single part of the business if you get relegated because you have to make savings."
If Palace did indeed drop into the Championship they would prospectively avoid the full implementation of the video assistant referee [VAR] technology which has been trialled in the United Kingdom for the first time this season in the Community Shield, FA Cup, Carabao Cup and various England international friendlies.
The experimental period has divided opinion, with criticisms ranging from the time taken to reach conclusions, the lack of information being fed to the fans in attendance and whether decisions are in fact correct.
The International Football Association Board [IFAB] will vote on whether the technology will be used at this summer's World Cup finals in Russia in March, with top flight clubs also set to decide whether the Premier League will introduce VAR from next season before the end of the current campaign.
But Parish feels the fabric of the sport has been damaged by the trial period and confirms Palace will vote against its introduction.
"I am very worried about VAR," the former marketing and advertising executive added. "I hate all these games that stop and start. I think we're going down an incredibly dangerous road with that.
"I remember when rugby introduced VAR, I just lost interest in it. In cricket there are all these appeals you can have and all this technology.
"What you lose is the fringe people. They can no longer just dip in and dip out. Do we really think people are going to stick with it if we're watching screens for four to eight minutes?
"And they don't necessarily get the decision right because no-one can agree on the rules anyway. We still have a debate.
"Why do we want to make a 90 minute game 120 minutes?
"We've got it for these four decisions at the moment but you know the answer to everything is going to be more VAR. We've got these four decisions which we're getting right but we're not getting these other ones right, so why don't we have VAR for them?
"I can't see an end to it. I don't see the point of having it for four things when you're still going to get massive injustices. I would leave the game as it is. Maybe you have an extra referee if you wanted to try and get more things right and keep the flow of the game and try to keep it a 90-minute game.
"The controversy is sometimes against you and it costs you dearly but it is part of the game and I don't think it will go away with VAR.
"It is hard to see the Premier League not have it. But it has to change from where it is at the moment if it is to have any chance of adding something to the game. Right now I would be a no."