For years the only legal way to watch big Hollywood pictures like Fast & Furious 7 or Avengers: Age of Ultron on their day of release was to go through the rigmarole of heading down to your local cinema. For most of us sadly, that is still the case.
For the rich however there is a new solution – a $35,000 (£23,500) set-top box that allows its users to watch the latest releases in the comfort of their own home for a standard 24-hour rental price of $500. The Verge was lucky enough to try the kit out at a recent showcase event.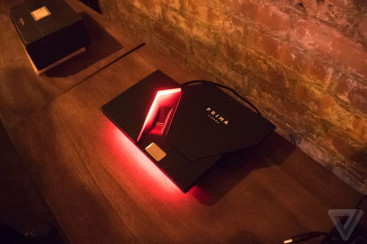 Of course Hollywood studios aren't eager for such services to become the norm, so there are a multitude of precautions in place to ensure the Prima Cinema system isn't exploited. For one there's a biometric finger scanner that requires the owner (usually the homeowner's) print every time a film is rented.
That scanner is housed in a set-top security terminal designed by BMW's contract design arm, DesignworksUSA, but the magic happens in a separate machine housed in a rack. It's to this box that the 40GB movies are downloaded – every available movie in fact, even before they've been rented – through a business quality internet connection.
Each of these movies is projected at 10-bit 1080p 4:2:2 (that's very good quality) with Prima looking into 4K movies as soon as the technology has matured. All that's required of the user is a good enough television or projection system to make the most of the quality – which shouldn't be a problem given the user is probably stinking rich.
Each movie comes with an invisible watermark to ensure that any leaked copies are easy to trace back to their origin.
It's a lot of money to avoid slumming it with the masses at the local Odeon, but if money was no option how much would you pay to avoid sharing arm-rests with exposed nobly elbows, eating sub-par popcorn and trudging across questionable sticky carpets?