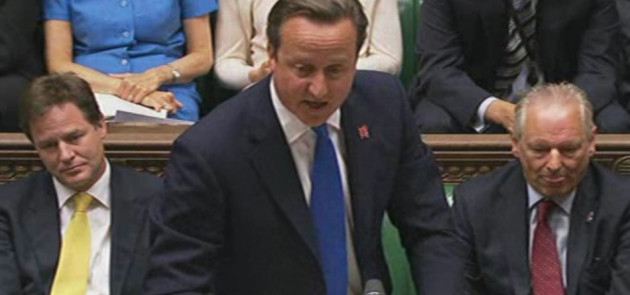 David Cameron defended his cabinet reshuffle and professed plans for "cross-party agreement" on airport capacity during the first Prime Minister's Questions period since the summer break.
Cameron was immediately criticised by Labour leader Ed Miliband, who could not resist using the prime minister's own words against him when discussing the reshuffle.
"After two-and-a-half years the prime minister returned from his summer break and told the nation that it was 'time to cut through the dither', who did he have in mind?" Miliband asked.
The Labour leader accused Cameron of carrying out a "no-change" reshuffle. He said: "He brought back David Laws, he promoted the culture secretary [Jeremy Hunt] who should have been sacked, and he left in place the part-time chancellor that the whole country knows should have been sacked.
"It is the same old faces, the same old policies, a no-change reshuffle."
Miliband also capitalised on the jeering aimed at George Osborne while presenting medals at the Paralympics. Miliband said the spectators were speaking for the British public.
Cameron would not be put on the defensive, however, mocking Miliband for having all summer to choose his questions "and that's the best he could come up with".
The prime minister claimed his changes were made with the plan of making every department focused on the economy, before claiming he had his first choice chancellor, while Miliband had his third choice in Ed Balls. He then quoted a Daily Mail article claiming Miliband still made the coffee.
Cameron stressed that the coalition was united and ignored comments by Milband that his "crimson tide" was rising as he became more red-faced.
He said: "We are seeing the private sector grow and expand. There are 900,000 more people employed in the private sector than two years ago.
"Now we are a net exporter of cars and motor vehicles. This is a hard road, a difficult road, but one this government will stick to because it is delivering."
Airport debate
IN a PMQs session that was typically full of bluster and debate over vague polticial direction, Labour MP John McDonnell was able to pin down the debate when he called on Cameron to rule out supporting a third runway at Heathrow.
Cameron would not but said he would stick to his manifesto pledge to continue to oppose a third runway during this parliament.
He said: "Very large infrastructre projects are extremely difficult for individual governments to take and to deliver.
"What we need to do is build a process that hopefully has cross-party support, so we can look carefully at this issue and deliver changes that will address the problems of capacity that we will have over future years and address the issue of the hub status of the UK."
Renewed questions were asked over the government's position on the issue after it failed to respond to comments from London mayor Boris Johnson, who called for a guarantee that a third runway would not be considered after 2015.
Grant Shapps, the new Conservative Party chairman, told BBC Radio 4 that ministers had an open mind on the issue.
He said: "Airports are particularly important and there are a lack of slots in the southeast around London and it must be addressed, otherwise we are dooming ourselves to economic failure in the future."
The issue is a major source of contention amid Tory ranks as they await Cameron ordering an independent commission into the future of Britain's airports. MP Zac Goldsmith, whose Richmond Park and North Kingston constituency is under the Heathrow flight path, threatened to quit if the government U-turned on its promise.
"I promised before the election that if the Conservatives perform a U-turn on Heathrow, I would trigger an immediate by-election so that local voters can have their say," he said. "Clearly, I would honour that commitment."