Prince William, Duke of Cambridge and Prince Harry have been joined by Canadian Prime Minister Justin Trudeau and French President François Hollande in commemorating the Battle of Vimy Ridge 100 years on from the defining World War One conflict.
The Canadian Armed Forces had carried out a private ceremony the night before the official commemorations in memory of the four battalions that fought in the battle.
Roughly 3,600 Canadian troops lost their lives and thousands of other soldiers were injured while under British command during the three days of fighting, resulting in the appearance of Trudeau as a mark of respect for the Canadian soldiers.
The ceremony, which was attended by around 25,000 people – including relatives and loved ones of those who died in the battle, took place on the Canadian National Memorial on the battlefield near Arras.
The battle for Vimy Ridge was part of the wider conflict for Arras that took place over a month between 9 April and 16 May 1917. In total, around 159,000 allied troops died, including British, Canadian and Australian soldiers.
Also in attendance to pay respects was Scottish First Minister Nicola Sturgeon to remember 18,000 Scottish soldiers who were killed in the Battle of Arras.
In a message to the Candian people, the Queen, as head of state of the country, said it was the "duty" of the UK to remember those soldiers who fought so valiantly despite being far away from their homes.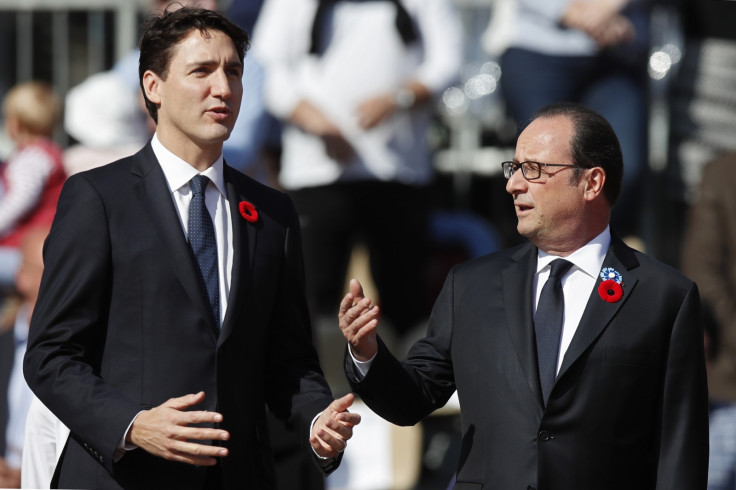 "On this day a century ago, thousands of Canadian soldiers stood far from home together with their allies in defence of peace and freedom.
"It is our duty to remember and honour those who served so valiantly and who gave so much here at Vimy Ridge and throughout the First World War."
The Canadian forces retook the German stronghold that was being fortified at Vimy Ridge following four days of battle on 9 April after it had been taken early on in the war.