Bollywood actress Priyanka Chopra suffered a concussion after a fall during a stunt while filming the TV show Quantico.
Chopra, 34, is now recovering at home after being taken to hospital, and will not be returning to the set until after the weekend, TMZ reported.
In a statement released by ABC, which features the hit crime drama, said there had been a "minor incident" during filming on Thursday night.
It said: "It would be premature to comment further until we have all the information. Priyanka was examined by a doctor, released and is home resting comfortably."
Chopra, who initially wanted to study engineeering or psychiatry, was crowned Miss World in 2000 before becoming a huge star in India's film industry.
Over the past 17 years, she has made almost 50 Bollywood films. She got her breakthrough Hollywood role playing FBI recruit Alex Parrish in Quantico. She is also appears in the upcoming comedy Baywatch.
Most recently, Chopra and Tom Hiddleston, 35, sparked romance rumours after reportedly exchanging numbers and a kiss at the Emmy's after party. An eyewitness said the pair were "openly flirting".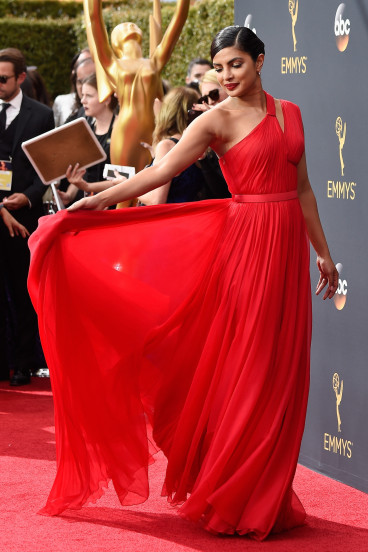 The source told the Sun: "He had his arm around her and held her close. Afterwards, Tom and Priyanka talked closely and were holding hands at one point for a few moments. She fixed Tom's bow-tie and then they kissed on both cheeks."
The source added: "Priyanka and Tom said goodbye and she told him she will see him later. They left the event about a minute apart."
She later told US talk show Jimmy Fallon how 'princessy' she felt at the Emmy's.
She said: "I walked out with this big train and I did it for the first time because it was like 'oh, it's so pretty' and I feel princessy, and after I twirled once I was doing it all night!
"All of the photographers were asking me to twirl and then onstage Tom made me twirl and I was always only twirling. I'm the twirling dancing emoji now!"