Prostate Cancer: Newly Discovered Protein Inhibits Tumour Growth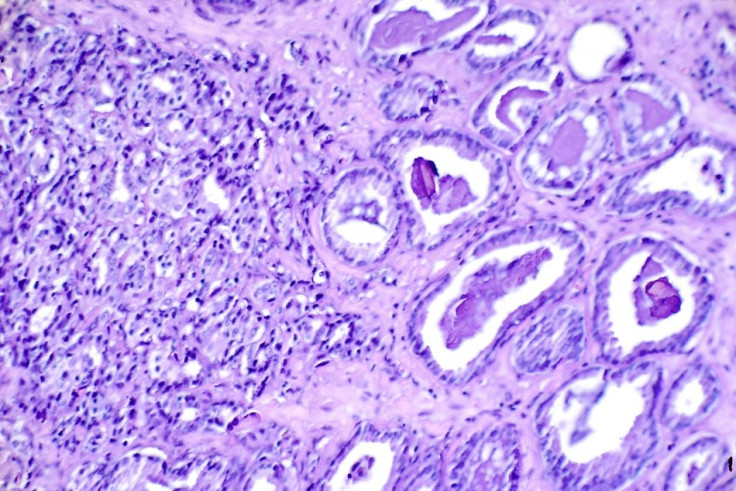 Scientists have discovered a new protein which inhibits prostate tumour growth even in advanced stages. The efficacy of the protein lies in triggering the body's immune response to prostate cancer. The breakthrough paves the way for the development of new and improved vaccines for late stages of prostate cancer.
The new protein, prostatic acid phosphatase 114 (PAP 114), is an epitope of PAP protein which is seen to be present in over 90% of prostate tumours.
Researchers at Nottingham Trent University discovered that injecting the PAP 114 protein in the surrounding area of cancerous cells stimulates the body's immune system and "switches off" tumour growth.
In the UK, more than 10,000 men die as a result of prostate cancer, while on an average about 40,000 are diagnosed with the disease each year.
Ecancer, a leading oncology journal, reports that the average age for men to be diagnosed with prostate cancer is 70-74 years, but positive diagnosis of men above 50 is on rise in recent years.
The only vaccine for prostate cancer available as of now uses the blood of the patient to isolate his or her immune system cells, which are cultured with a different protein, PAP-GM-CSF, similar to PAP. The cultured complex of the patient's immune cells and protein are then put back in the patient's body to stimulate the immune system response to cancer. However, the treatment extends the life of the patient by only about four months.
"Unfortunately for most cancers, the specific targets against which vaccination strategies can be based are sometimes weak and relatively poor at inducing robust, protective anti-tumour immune responses," said Dr Stephanie McArdle, who led the research team at Nottingham Trent's John van Geest Cancer Research Centre.
Dr McArdle believes that the study will lead to the development of vaccine which will generate a more specific, more efficient, faster and longer-lasting protective immune response against prostate cancer.
The new vaccine will be cheaper to produce, and with fewer potential side-effects and could be administered to patients in comparatively simple formulations.
Although the vaccine has only been tested on mice, researchers are positive about starting clinical trials soon.
Prostate tumours are known to "evade" the immune system, but the new vaccine is designed to induce protective anti-tumour immunity and attack the cancerous cells through the immune system.
"Our findings demonstrate that PAP-114 is a promising candidate for further development of PAP-based anti-cancer vaccine strategies," Dr McArdle added.
The discovery of the potent immune-stimulating protein promises new insights into the development of effective immunotherapies, which are considered safer than chemotherapies, for the treatment of aggressive cancers.
© Copyright IBTimes 2023. All rights reserved.