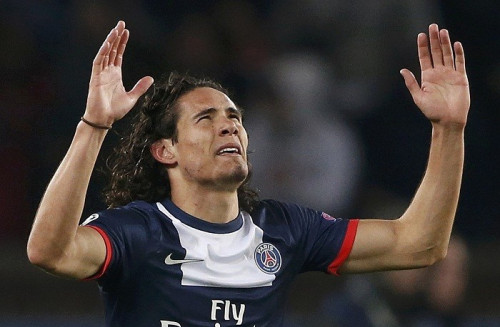 Paris Saint Germain manager Laurent Blanc has told Manchester United to forget about signing Edison Cavani this month despite reports suggesting the striker is willing to leave his club just six months after arriving in France.
The Ligue 1 Champions signed Cavani last July after paying Napoli £55m to secure the striker's services but the Uruguayan is reportedly unhappy about his role under manager Lauren Blanc.
Although Cavani has scored 13 goals in just 19 domestic league appearances he has been overshadowed by Zlatan Ibrahimovic who remains an immovable object up front, with Blanc asking the Uruguayan to occupy the flank instead rather than his preferred position up top.
After a disastrous start to the season Manchester United bosses finally look poised to break the bank and sign Juan Mata and recent reports claim that Cavani may be the next start to move to Old Trafford.
But when asked if United have already launched a bid to sign Cavani, Blanc said: "It is clear that it is almost impossible to sign any PSG player until the end of the season."
"Cavani to Manchester United? We are also interested in many players. You can not tell clubs to not be interested in PSG players but interest is one thing and sign them is another," Blanc said in a press conference.
French newspaper L'Equipe recently suggested the club would not entertain their summer signing leaving the club this January, something the PSG boss has since reiterated.
Blanc's quotes respond to recent reports from the Daily Mail and The Mirror suggesting David Moyes is considering a bid for the Uruguay international to replace Wayne Rooney should the English striker decided to move away this summer.
Moyes was recently spotted in France to watch Cavani at the Stade Chaban durign a Coupe de la Liga game while the Mail reported that United was trying to take advantage of Sir Alex Ferguson's excellent relationship with Blanc to secure Cavani.