Follow transfer deadline day here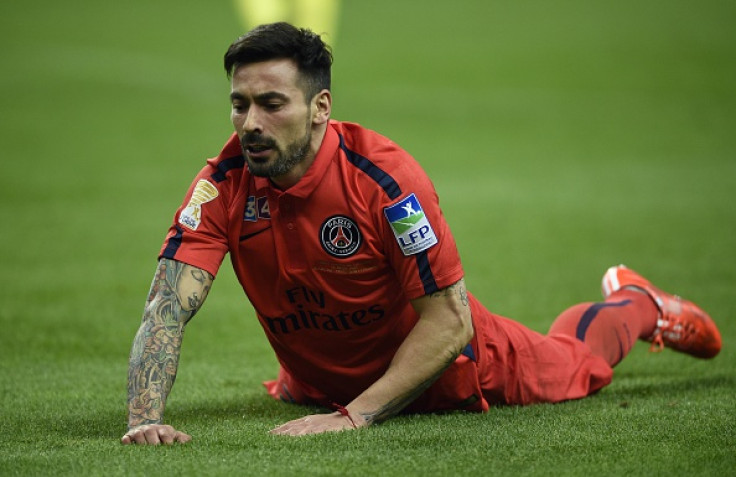 Chelsea and Liverpool have suffered a blow in signing Ezequiel Lavezzi after his manager Laurent Blanc confirmed the forward is not leaving Paris Saint-Germain in the midseason transfer window. He has less than six months left on his contract at Parc des Princes and has been linked with a move to English clubs.
According to Gazzetta dello Sport, the Premier League winners were keen on landing the Argentine international. In addition to this, Liverpool and Tottenham were also interested in signing the 30 year old, reports talkSPORT.
Failure to cash in on Lavezzi's sale now will see PSG allow their player leave as a free agent in the summer. However, Blanc insisted the Ligue 1 outfit are willing to allow the player leave for nothing after the end of the season as they are adamant on retaining the player for the second half of the 2015/16 campaign.
"We have been very clear with Lavezzi. We have been very, very clear with him. I don't want to tell you what we said but we have been very clear with him, from the beginning of the season until this transfer window," Blanc said, as quoted by Goal.com.
"We have been very clear on his situation. He cannot say the contrary. We all know that if someone wants to leave the club, all parts of the club must agree. Apparently, that is not the case because he hasn't moved.
"His contract ends in June and there is a strategy. Well, not really a strategy, but there is a position to stand, hold or keep.
"We have had discussions with players at the end of their contracts. We spoke with them and we told them that we could adapt to their positions if we found satisfaction."
Chelsea face Paris Saint-Germain in the knockout stages of the Champions League. The first leg will be played in France on 16 February, just days before the Blues' fifth round FA Cup clash against Manchester City.