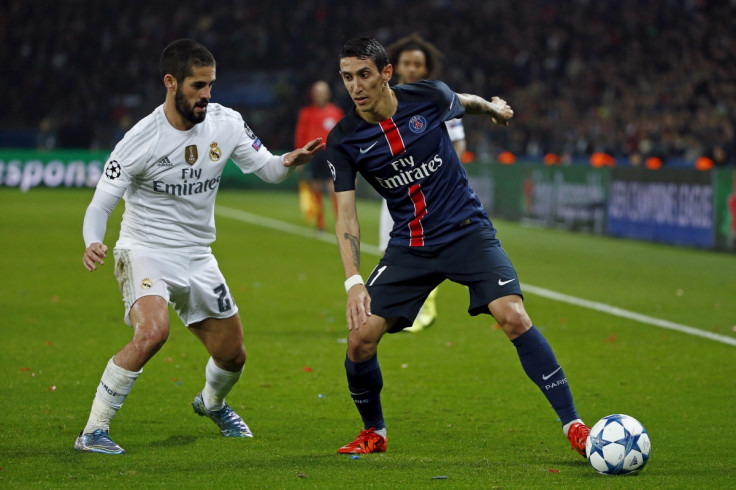 Paris Saint Germain manager Lauren Blanc has confirmed that Blaise Matuidi and Marco Verrati are set to miss the Saturday's Ligue 1 game with Montpellier due to injuries, leaving on doubt whether the duo will be available for the Champions League second leg last-16 with Chelsea on Wednesday (9 March).
The boss, however, will have Angel Di Maria back in the squad for the home game with Montpellier after the former Manchester United winger missed during the last two games against Lyon and Saint-Etienne.
Matuidi, 28, suffered a thigh injury during the 3-1 victory over Saint-Etienne in the Coupe de France quarter-final, being force to be replaced in the 67th minute of the game by former Tottenham midfielder Benjamin Stambouli. Meanwhile, Verrati, who is also another key member of the PSG starting line-up, is yet to play since the 4-1 Ligue 1 victory over Stade Reis on 20 February due to a "bone-based" injury.
Blanc has confirmed that the Saturday game against Montpellier will still come too early for the duo but insisting PSG have enough depth in the squad to cope with their absence, as Stambouli himself, Thiago Motta and Adrien Rabiot are all available.
"The injury to Blaise (Matuidi) is muscular. He's undergoing tests," the boss said as quoted by the club website. "Marco (Verratti) has a bone-based injury, and that's more problematic. We'll see whether we can get them back as quickly as possible, but they won't be in the squad tomorrow."
"They're two important players for Paris Saint-Germain, but if they're not available, we have quality players to replace them."
Di Maria, meanwhile, has also missed the last two games but will be able to start against Montpellier, in order to get some playing time to be fully fit for the trip to Chelsea, with the Ligue 1 side having an slight advantage to go to the quarter finals after securing a 2-1 victory at home.
"He (Di Maria) got injured against Reims two weeks ago, but he's training normally now and he's in good form. He will start on Saturday," Blanco confirmed. "I want him to have some game time before the match against Chelsea next week. Champions League matches are incredibly intense, so you have to be well prepared."
The Paris Saint Germain boss, meanwhile, has suggested that he could rest some players ahead of the trip to west London, but claiming that his side will try to beat Montpellier anyway despite they lead the table with 23 points ahead of Monaco,.
"Before we think about the match against Chelsea next week, we first have this league match with Montpellier," Blanc said. We'll do the maximum to win this match; we want to win at the Parc des Princes on Saturday. With or without certain players, if I choose to rest them."