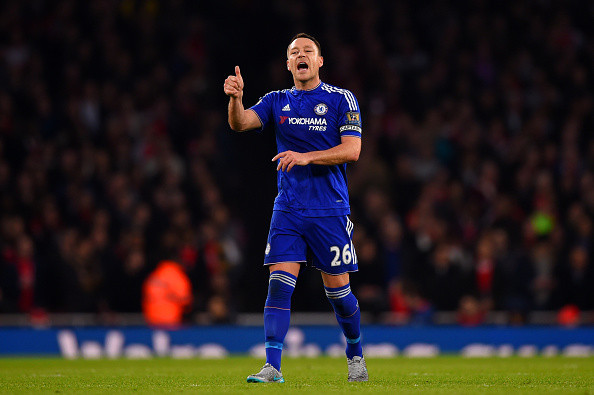 Chelsea manager Guus Hiddink has claimed that the Saturday visit of Stoke City will come too early for John Terry and Pedro Rodriguez but the duo may be ready to return on time for the Champions League last 16 second leg with Paris Saint Germain on Wednesday night (9 March).
The Dutch boss, meanwhile, has confirmed that Diego Costa will lead his attack against the Potters despite previously suggesting the Spaniard could be rested ahead of the crucial European clash with the Ligue 1 giants, with the Blues in need to overcome the 2-1 defeat away to go through the quarter-final.
Terry already missed the first leg with the Parisians after suffering a hamstring issue during the 5-1 victory over Newcastle earlier on 13 February, with Branislav Ivanovic covering his absence in the centre of the back-line alongside Gary Cahill, as Kurt Zouma is also out. Hiddink has now suggested that the captain is closing to return but will still remain on the side-lines on Saturday alongside Pedro, who already missed the midweek win over Norwich after picking a hamstring injury in the previous game with Southampton.
"He (Terry) is not fit to start this weekend," Hiddink said. "He's with the physios and he's also training but he's not with the group yet. We'll see how it goes for Wednesday.
"Pedro is the same. He hasn't practised with the group yet. He is getting treatment but also running and exercising on the pitch."
Questioned whether Terry could make at list the bench to get some playing time in the second half ahead of the game with PSG, he said: "I don't think so. With this kind of injury you have to have rather intense training before. It's too much of a risk otherwise."
But asked if the Captain could make his return in the Champions League game, he said: "It depends on how he is in training late Monday. He is a little bit restless. Every player with big ambition is always a little bit restless when injured. Some like to rest a bit and take their time, (but not Terry). I will not take any risks with him. I still plan to do a six-a-side training match with him involved, but it won't be today. If we do the training match, we will do that on Monday or Tuesday."
The manager, speaking ahead of the game with the Canaries, claimed that he may need to rest Costa either against the Norwich or in the clash with Stoke City amid fears over his fitness, having forced to play a number of games in recent games due to the shortage in his attack with the long-term injury of Radamel Falcao and Pato's fitness issues. However, Hiddink has now claimed that the Spanish international will finally make his starting line-up against Stoke as he can't rest the inform striker, who has netted 10 goals in his last 14 appearances for the club, including one against Norwich.
"He wants to play every game. It's difficult to put a brake on him. Tomorrow (against Stoke) he will start but maybe he will not play the full game." Hiddink said.
"He is in perfect physical shape, but we also must be careful not to overload him in games. We monitor them with the data of the medical team and I can make some conclusions from that. We are living in an emotional world but sometimes you have to be rational as well. I talk with him about his physical state, which is superb. There is always a danger of him doing too much, and if I share the figures with him he can be rational as well. We must let him go but sometimes I must put him on a leash."