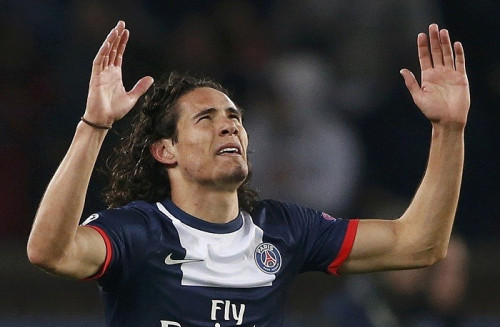 Paris Saint Germain have rejected the possibility of Edinson Cavani completing a move to Manchester United this winter, L'Equipe reports.
Despite his excellent form this season uncertainty remains over the future of Wayne Rooney at Old Trafford amid suggestions the England international will renew his efforts to leave the club this summer.
Reports from the Daily Mail and the Mirror have suggested that David Moyes is eager to test the strength of the financial backing he has been promised with a bid for Uruguay international Cavani to reignite their season, and to possibly replace Rooney should he seek a move later this year.
The Mail added that United have turned to Sir Alex Ferguson in a bid to try and entice the Parisian giants into considering an offer, given the Scot's healthy relationship with their head coach Laurent Blanc.
But according to L'Equipe, the Ligue 1 champions have quickly dismissed the possibility of Cavani leaving the club this month and are likely to hold a similar stance should United return in the summer.
The report confirms Moyes was in attendance at the Stade Chaban Delmas last week as PSG sealed their place in the semi-final of the Coupe de la Ligue, one of many excursions the United manager has taken this month.
It is also confirmed that former United manager Ferguson also made the trip to watch over Cavani, who was introduced as a substitute in a 3-1 victory.
PSG paid £55m to sign Cavani from Napoli last summer and despite being somewhat overshadowed by the exploits of Zlatan Ibrahimovic this season, the 26-year-old has still gathered an impressive 13 goals in 19 league appearances.
Rooney's future at the club is likely to dictate whether or not United make a move for a high profile striker such as Cavani. The England international and Robin van Persie have both been absent during United's disappointing start to 2014, but are expected to return to training this week.