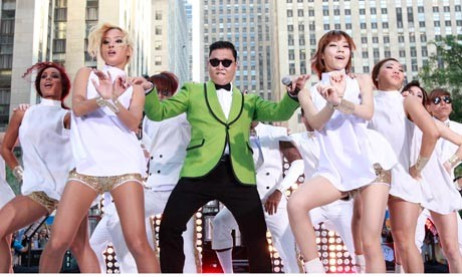 Psy has revealed that President Obama told him he has had to give up doing the 'Gangnam Style' dance for fear of embarrassing his family.
The Korean, who performed his hit dancetrack for the American Leader and guests at the Christmas in Washington benefit, claimed that Obama's moves had not gone down well at the White House.
The rapper told the Hollywood Reporter: "He told me he's good at 'Gangnam Style' but that the ladies at his house are embarrassed when he's dancing so he's not doing it."
Psy's revelation comes just days after he issued a full apology for threatening to kill Americans in one of his singles from 2002. He is said to have written the song after a US military vehicle ran over and killed two Korean girls.
The song featured violent lyrics including: "Kill those Yankees who have been torturing Iraqi captives/Kill those Yankees who ordered them to torture/Kill their daughters, mothers, daughters-in-law, and fathers/Kill them slowly and painfully."
Psy achieved worldwide success with the release of Gangnam Style this summer. The catchy song has topped the charts in more than 20 countries, and its accompanying video has become the most viewed YouTube video of all time with almost a billion views.
A Koreatown restaurant in LA, originally known as Soju Town, has also renamed itself following the song's phenomenal success. Although the owners did not get the star's permission to use the name Gangnam Style, he apparently took it as a compliment.