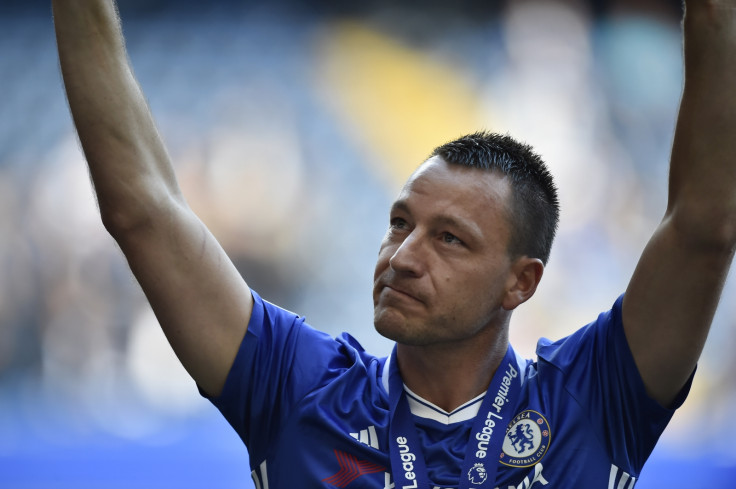 Bookmakers Paddy Power have confirmed they have paid out on bets worth £3,500 made on the timing of John Terry's controversial substitution during his final match for Chelsea.
Terry, who will leave Stamford Bridge after 22 years this summer, was subbed after 26 minutes against Sunderland on Sunday (21 May), corresponding with the number he has worn at Chelsea for his entire career.
The plan, thought up by the former England captain, was accepted by Sunderland, who agreed to put the ball out of play so Terry could receive a guard of honour from his teammates as he left the pitch.
Paddy Power confirmed they accepted bets on the specific time Terry's substitution would take place, giving odds of 100-1, with three punters cashing in having placed money on the change to take place between 26:00 and 26:59.
The Irish bookmakers told Press Association on Monday: "We replied to a novelty request for odds on John Terry's substitution – one of hundreds on the Chelsea game - and fair play to the three punters who were on at odds of 100-1.
"To be honest the only mistake here is we should have clocked sooner there'd be another cringe-worthy Chelsea send-off for JT."
Press Association have spoken to two of the customers who won £2,500 and £1,000 respectively.
Terry revealed after Sunday's match he was the one who put the idea forward. "I kind of negotiated with the manager to play 26 minutes and come off. I think he wanted to get the boys that didn't play on Monday night against Watford and give them a run-out. It was a compromise between the two of us."
Sunderland manager David Moyes, meanwhile, revealed after the game that his side had agreed to go along with the show, putting the ball out of play when the clock struck 26 minutes so the change could take place.
"We knew it was coming and we agreed to put the ball out," the Black Cats boss said.