Everton midfielder Idrissa Gana Gueye is keen to see Ross Barkley and Romelu Lukaku resist interest from Tottenham Hotspur and Chelsea and stay at Goodison Park this summer.
Uncertainty shrouds the futures of both Lukaku, 24, and Barkley, 23, who are considering their options, but Gueye expects the talented pair to report back for pre-season training at Finch Farm after the summer break.
The former Aston Villa midfielder has flourished since joining the Toffees for just £7.2m ($9.3m) last year and has unquestionably been one of Everton's best players this season.
The Senegalese international believes he has developed a great relationship with Barkley and Lukaku both on and off the pitch and thinks it would benefit both them and Everton if they resist the lure of Chelsea and Tottenham and grow under the tutelage of Ronald Koeman.
"There is no reason to believe at the moment that they are not going to be with us come the start of pre-season," Gueye told the Liverpool Echo. "I think it would be a good thing for them and for us as players if they are with us. We are all about growing this club and improving it.
"It's great for the club if guys like that do stay. On a personal level I get on great with both of them, we have a laugh in training. I have a great relationship with them off the field but an even better one with them on the field, passing the ball and working with them.
"It's not really me you need to ask about what's going to happen. It would be great for the club if they are here."
Everton have slapped £50m and £100m price tags on Tottenham target Barkley and former Chelsea prodigy Lukaku, who have one and two years left respectively on their current contracts at Goodison Park, and are hoping to keep the pair in order to compete both domestically and in the Europa League next season.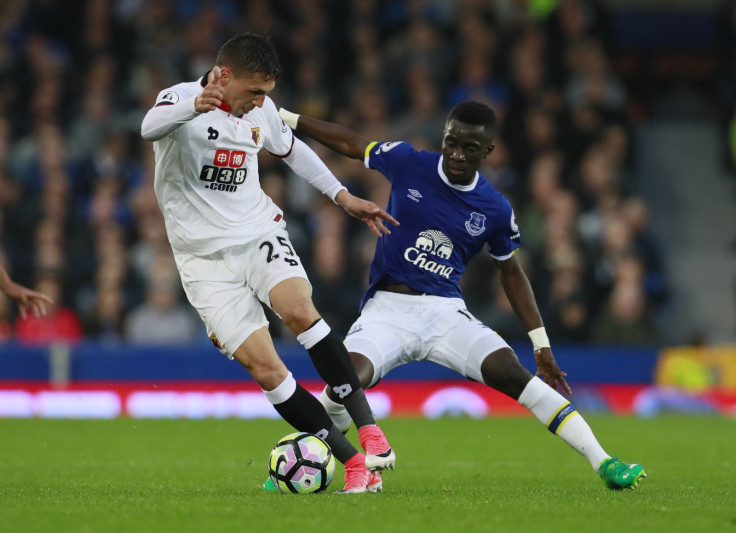 Despite the Toffees' upcoming European excursions, Tottenham and Chelsea can both offer the carrot of Champions League football, something Lukaku in particular has long been obsessed with. Koeman is relaxed about the Belgium international's future due to length of time remaining on his contract but has repeatedly urged Barkley to make Everton aware of his future.
The Dutchman is primed to make numerous offensive signings in the summer months, with Swansea City's Gylfi Sigurdsson and Malaga's Sandro just two of a host of targets interesting him and director of football Steve Walsh.