It seems you can 3D-print anything these days – a 42-year-old Japanese artist has been arrested in Tokyo for distributing a 3D printer data file via email to over 30 people, that would allow them to digitally replicate her vagina.
Megumi Igarashi, more commonly known by her artist name Rokudenashiko, which translates to "b*****d child" in Japanese, has been trying to break down Japanese taboos relating to female genitalia through her art.
To that end, she started a campaign on Japanese crowdfunding website Campfire in June, inviting backers to support the world's first "manko boat" (which translates as "c***" in Japanese) – a canoe in the shape of a vagina, which she deemed as "a man's dream boat".
She was only hoping to raise 514,800 yen (£2,969, $5,070) but in the end, 125 people backed the project, rasing a total of 1 million yen.
For everyone who donated over 10,000 yen, Igarashi promised to email a link to the 3D data file so they could print out their own 3D vaginas and put their name on her boat, which would be printed into a styrene canoe.
Igarashi planned to sail her vagina canoe across Lake Geneva in Switzerland.
Arrest
After successful completion of the campaign, the artist sent the link to the data file via email to over 30 people and was then arrested by the Tokyo Metropolitan Police for breaking Japan's obscenity laws, which do not permit displays of female or male genitals.
According to Japanese news site Mainichi, she told police, "I do not think it is obscene."
Igarashi calls her art of the vagina "Decoman". "Deco" is a phrase in Japanese used to represent any form of decoration or design, and "man" comes from "manko".
So far, her works of art have included a "decoden" decorated Japanese iPhone case, only with the shape of her vagina embedded, as well as a bracelet with vagina charms, a vagina lampshade, a remote-controlled "pussy car", a Gundam robot toy with a vagina and a comic book.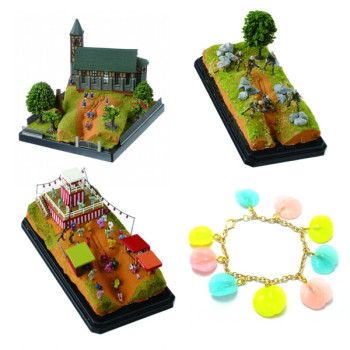 She has also created diorama models of various scenes, including a diorama showing the damaged Fukushima Daiichi nuclear power plant with a vagina cleft in the middle and tiny model workers standing around the cleft.
Decoman
"I prefer to call my vagina 'manko' and I was very surprised to see how upset people are to see my work or hear me say manko. Even when a TV station asked me to be on their show, they would not dare to let me say 'Decoman'," Igarashi explains in an English version of her crowdfunding video.
"I have never seen other images of women's pussies and I thought that mine was abnormal. Pussy is thought to be obscene and is overly hidden even though it is just a part of a woman's body.
"I want to make pussy casual and pop. I cannot afford a 3D scanner, so here is my request for your support to make the world's first 3D-scanned pussy boat that goes across the sea. Please make my dream come true."
Igarashi said in her video that she planned to record the boat and its journey as an art performance, to draw new cartoons to commemorate the project on a Japanese forward-thinking women's culture site called Messy.