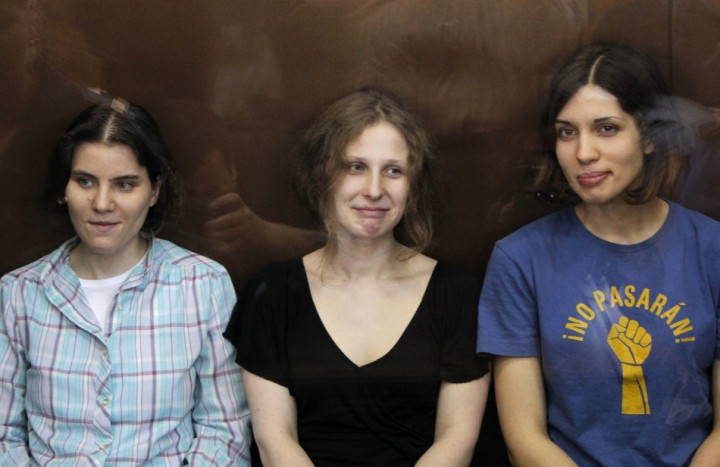 The Pussy Riot trial has united the Russian opposition under the same flag against president Vladimir Putin, according to prominent dissident journalist Anastasia Kirilenko.
Speaking at the Festival of Journalism in Perugia, Kirilenko said that it was much more difficult to protect them as many Russians are "devoted Christians" and were "shocked" at Pussy Riot's violent act.
Pussy Riot feminist punk members Nadezhda Tolokonnikova, Maria Alekhin and Yekaterina Samutsevich were found guilty of hooliganism motivated by religious hatred or hostility and sentenced to two years in jail for performing an anti-Putin protest song in Moscow's Christ the Saviour Cathedral. One of the three, Samusevich, was released on probation in October last year. Tolokonnikova, meanwhile, has just had a plea for early release rejected because she had "not always followed the rules of behaviour" while in custody.
Kirilenko, a Moscow-based reporter who resigned from Radio Liberty in protest at editorial changes introduced by the American management, said that more than 300,000 Russians are in prison illegally. She has conducted many investigations between 2010 - 2012 on Vladimir Putin, but her most successful project looked into alleged illicit activities of Russia's strongman as St. Petersburg's mayor in the early nineties.
"In 1992 there was a shortage of food and Putin pretended to do strange things to resolve problems," she explained at the Festival of Journalism in Perugia. "For example he gave funds to the Municipal casino saying that money would help poor people. Also, he signed the program 'oil for food', allowing oil exports and other materials abroad. However, the food never arrived."
Kirilenko also claims that it was difficult to gauge how many people actually voted for Putin in the 2012 presidential elections, given the alleged vote-rigging and fraud at the ballots. "It is difficult to find in Moscow ordinary people that voted for Putin,"she said. "I uncovered how it is possible to vote Putin's party up to 30 times in the same election. The 70% support he received is not real."
Ironically, Russia is a very fertile place for journalists as there are a lot of issues such as corruption and election fraud, to be investigated. Still, between 1993 and 2009 around 300 journalists were killed because of their work. In a place where corruption is estimated at around 27% of the GDP, it is difficult to find profitable independent media.
Open Democracy Russia covers Russian and former Soviet Republics. It has produced over 3,000 articles in the last five years and can be considered one of the few independent media in Russia.
One of the journalists who work for Open Democracy is Svetlana Reiter, also special correspondent for Esquire Russia. She was questioned by the Federal Security Service (FSB) about an interview published in the magazine last year featuring Igor Kalyapin, a human rights activist and head of the Nizhny Novgorod- based Committee Against Torture.
Reiter also covered the anti-Putin demonstrations which erupted last year after his return to power as Russia's president. However, her reports and investigations on clashes between police and demonstrators failed to produce an impact on government's policies and public opinion.
"You can write lots of reports but you don't have reaction from the government," she said. "They just don't care. You feel like you're writing for nothing."