Amnesty Moscow HQ Raided by Police and Tax Inspectors on Vladimir Putin's Orders
At least 30 NGO offices inspected in Moscow in Kremlin-ordered sweep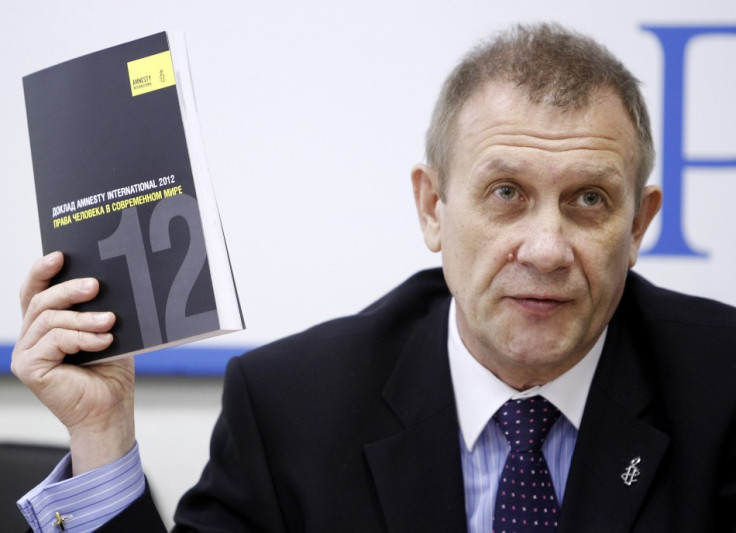 The Moscow office of Amnesty International has been raided by Russian prosecutors and tax police.
Officials from the general prosecutor's office and revenue inspectors launched the search accompanied by journalists from the state-controlled NTV television station, which has aired several programmes that portray Russia's political opposition as foreign-funded.
Sergei Nikitin, chief of Amnesty's Russia, said Kremlin officials requested documents that the government already had on file. Other groups, including For Human Rights and Public Verdict were also searched.
President Vladimir Putin has long been suspicious of NGOs and accused them of being fronts for US meddling in Russian politics. In 2012, a raft of Kremlin-backed regulatory laws requiring NGOs that received foreign funding to register as "foreign agents" was approved by parliament.
Pavel Chikov, a member of the presidential human rights council, estimated that the number of NGOs searched by Russian officials was up to 2,000.
The law was criticised by the UN High Commissioner for Human Rights and the parliamentary assembly of the Council of Europe.
At least 30 groups in Moscow and many more in other regions have been inspected by Russian officials in the last two weeks alone. The inspections targeted groups that accept foreign funding and engage in advocacy work, according to New York-based Human Rights Watch (HRW).
"The scale of the inspections is unprecedented and only serves to reinforce the menacing atmosphere for civil society," said Hugh Williamson, Europe and Central Asia director at Human Rights Watch. "The Russian authorities should end, rather than intensify, the crackdown that's been under way for the past year."
Five officials from the prosecutor's office arrived without warning at the offices of the Memorial Society, an NGO that focuses on civil rights abuses from the Soviet era, to conduct an inspection. They were accompanied by an NTV crew.
Putin made clear at a meeting with the Federal Security Service that the "foreign agents" laws "should be enforced".
"Any direct or indirect interference in our internal affairs, any form of pressure on Russia, on our allies and partners is inadmissible," he said. He approved in December a sweeping law that suspends NGOs found to be engaging in "political" activities and receiving funds from US citizens and organisations
A prominent Russian activist, Irina Yasina, former head of the department of public communications in the Russian Central Bank and a director of the Open Russia foundation established by jailed oligarch Mikhail Khodorkovsky, joked about Putin's decision to shut down the US agency for international development during an event at Chatham House.
She argued it proved to be a double-edged sword for Russia's last czar. "I'm grateful to Putin," she said. "He has done so much to squeeze out foreign funds that local NGOs were forced to find ways to self-fund themselves. So I say 'Well done, Putin!'"
© Copyright IBTimes 2023. All rights reserved.