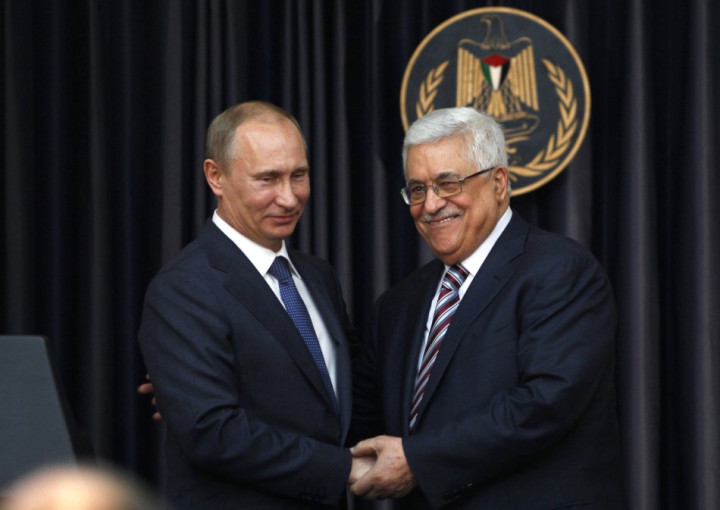 Russian president Vladimir Putin praised his Palestinian counterpart, Mahmoud Abbas, for taking a "responsible" position in negotiations with Israel and said Russia has no problem in recognising a Palestinian state.
During his visit to the Palestinian city of Bethlehem, Putin called for more commitment to the peace process.
He also made an indirect reference to the expansion of Israeli settlements by stressing that any unilateral action would be counter-productive.
Israel has transferred half a million settlers to the West Bank and east Jerusalem since the 1968 war.
"We talked about ways of overcoming the dilemma of the Israeli-Palestinian peace process," Putin said. "I point out here the responsible position of President Abbas and his endeavour to reach a peaceful settlement based on a two-state settlement.
"I am sure that all unilateral actions are not constructive."
Abbas agreed to holding an international peace conference on the Israel-Palestine dispute in Russia, a suggestion initially proposed by Putin in 2005 that failed to receive support from the countries involved.
Washington sponsored several rounds of negotiations between 2006 and 2010, without success.
"We know the Russian interest in reconciliation and I stressed the fact that we are going in that direction. If a date for legislative and presidential elections is set, this will be the gateway to reconciliation," Abbas said.
Israeli-Palestinian talks on the terms of Palestinian statehood stopped in 2008. Repeated efforts to restart them have failed because of wide differences between Israeli Prime Minister Benjamin Netanyahu and Abbas.
Russia is a member of the so-called quartet of Middle East mediators, which also includes the United States, the European Union and the United Nations. The US has always held the dominant role in mediating between Israel and Palestine.
In contrast to Russia, which recognised the Palestinian Liberation Organisation's declaration of statehood in1988, the US and Israel do not recognise Palestine as a state.
Israel has tried to block a bid by the Palestinian Authority to register the Church of the Nativity in Bethlehem under the state of Palestine at a UN meeting.
The UN's educational, scientific and cultural organisation Unesco recognised Palestine as its 195th member state in October 2011.
Putin's visit has been well received by Palestinian media, which referred to him as "the great guest of Palestine".