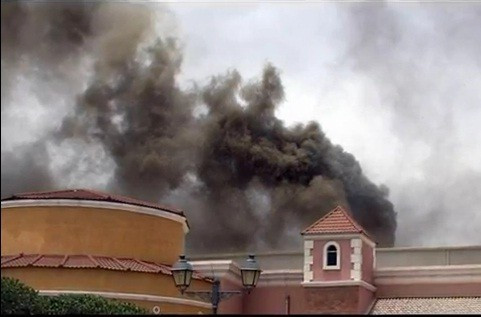 Nineteen people including 13 children were killed when fire broke out in a shopping mall in Doha, the capital of Qatar.
The blaze was believed to have started at the Gympanzee daycare centre and nursery at the Villaggio mall. The cause of the fire is being investigated.
Seven girls, six boys and four teachers were among those who died. Three of the dead were Spanish, three were from New Zealand and one was from France, said the Qatari interior ministry.
Two firefighters were also killed, according to reports. Seventeen others were believed to have been injured in the fire and were taken to hospital for treatment.
"We tried our best but when we got there, the children were trapped inside. We are very sorry for what happened. We tried as much as we could to save these people," interior minister Sheikh Abdullah bin Nasser al-Thani told the BBC.
The Gulf Times reported that all victims were expatriates from countries such as Spain, Japan, the Philippines, Jordan, Egypt and Benin, along with other Arab and African countries.
A Philippine embassy official confirmed that three Filipino day care employees died in the fire.
Smoke and fire engulfed the two entrances and exits of the nursery and rescue teams had to evacuate the trapped children through the ceiling of the building.
A lack of floor plans and malfunctioning safety systems acted as major hindrances to the rescue effort, investigators said.
"There don't seem to have been any fire alarms or sprinklers at the mall," Reuters quoted a relative of one victim as saying.
Heir-apparent Sheikh Tamim bin Hamad al-Thani said that the cause and circumstances of the fire at the Villaggio shopping centre would be thoroughly investigated, the Qatar News Agency reported.