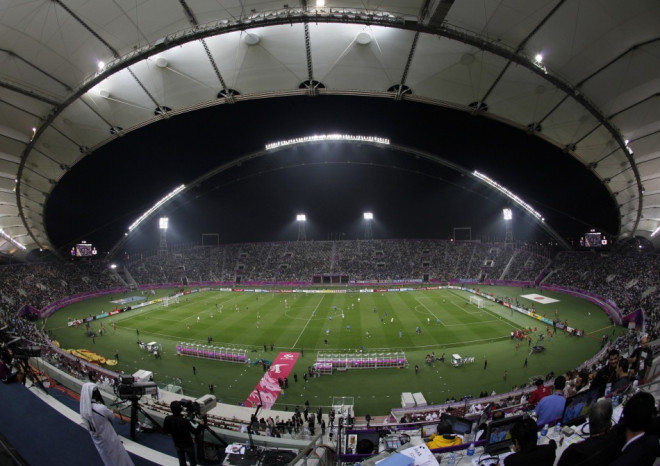 Qatar, which hosts the 2022 football world cup, has been hit by cost overruns and project delays and is reducing the number of planned stadiums for the event by a third.
The cost overruns come as the country faces a number of scandals in connection with Fifa's award of the right to host the tournament.
Qatar was planning 12 stadiums for the world's most-watched sporting event, including nine new stadiums and three refurbished ones. Now, it plans only eight stadiums for the event, according to Ghanim Al Kuwari, the organising committee's senior manager for projects.
He did not provide a reason for the cut.
Construction has started on the Wakra stadium, while that on the Al Rayan stadium is set to start later this year or early in 2015, according to Al Kuwari.
The country intended to spend more than $200bn (£119bn, €145bn) on infrastructure in connection with the tournament, including $34bn on a rail and metro system, $7bn on a port, $17bn on an airport and $4bn for the stadiums, according to the ministry of business and trade.
Nevertheless, escalating project costs prompted the country, which holds the world's third-largest natural gas reserves, to rethink. In addition, a number of projects have been facing delays.
The country is looking to air condition all the venues, as it plans to start the event in June. In summer, the country has temperatures above 50 degrees Celsius. Fifa earlier noted that Qatar may move the tournament to cooler months such as November and December.
Fifa's award to Qatar was criticised after several members of the association's committee faced corruption allegations.
Former Fifa vice-president Jack Warner and his family were allegedly paid about $2m by a Qatari firm linked to the country's successful World Cup bid.
The payments were given by a Qatar-based company, Kemco, which is owned by Mohamed Bin Hammam, the former Fifa executive committee representative of the Gulf state. The US Federal Bureau of Investigation (FBI) is now investigating Warner over his alleged links to the Qatari bid.
In addition, former Fifa executive committee member Ricardo Teixeira allegedly received money for awarding the event to Qatar. Teixeira is already under investigation by the Brazilian police.
Fifa's ethics committee is currently looking into all the circumstances surrounding Qatar's 2022 bid. Investigator Michael Garcia will interview members of the executive committee which made the decision to award the finals to Qatar.