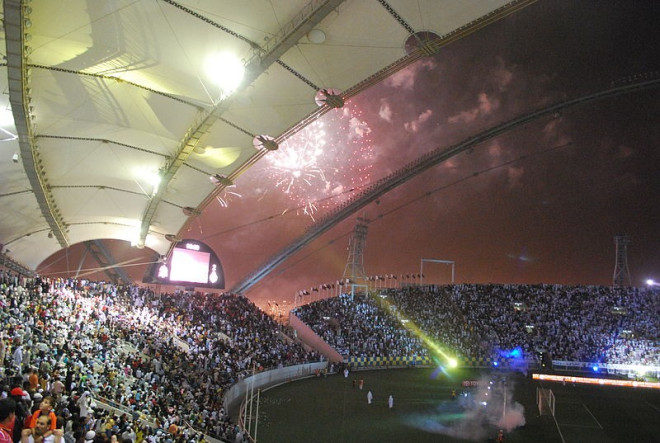 The campaign to strip Qatar of the right to host the 2022 football World Cup has gained momentum after it emerged that a firm linked to the Gulf state allegedly bribed a former senior Fifa official.
Jack Warner and his family were paid about $2m (£1.2m, €1.4m) by a Qatari firm linked to the country's successful World Cup bid, according to the Daily Telegraph.
The former vice-president of Fifa received $1.2m shortly after the Qataris won the right to host the tournament. Warner's sons received payments totalling almost $750,000, while one of his employees received $400,000, the newspaper reported.
The payments were given by a Qatar-based company, Kemco, which is owned by Mohamed Bin Hammam, the former Fifa executive committee representative of the Gulf state. The US Federal Bureau of Investigation (FBI) is now investigating Warner over his alleged links to the Qatari bid.
Following the latest revelation, football's world governing body is facing calls to re-run the bid, with some British MPs saying Fifa should investigate the case and consider declaring Qatar unfit to host the tournament.
"Fifa should carry out a full investigation. It looks like there may have been serious corruption in the bid and it has to raise serious concerns about sending the World Cup to Qatar," said Clive Efford, the Labour MP for Eltham and Plumstead and shadow sports minister, who was quoted by the Telegraph.
"If Fifa looks into all the information and finds that there is corruption, they should reopen the bidding process."
John Whittingdale, the chairman of the parliamentary culture, media and sport committee, noted that the entire process to select Qatar as the country to host the 2022 World Cup was doubtful and the bribe provides further evidence.
"These are very surprising revelations. It's a very large amount of money and in everyone's interests, including Jack Warner's, that this matter is investigated," said Tessa Jowell, Labour MP for Dulwich and West Norwood and former secretary of state for culture, media and sport.
Paul Farrelly, Labour MP for Newcastle-under-Lyme, said the tournament should be moved out of Qatar in case any wrongdoing is found.
Awarding Qatar the 2022 World Cup was one of the most controversial decisions in Fifa's history.
The award was criticised after several members of the Fifa committee faced corruption allegations.
However, Qatar has repeatedly denied any wrongdoing.