QPR's Barton Given Record 12 Match Ban by FA
Joey Barton has been slapped with a record breaking 12 match ban including a £75,000 by the FA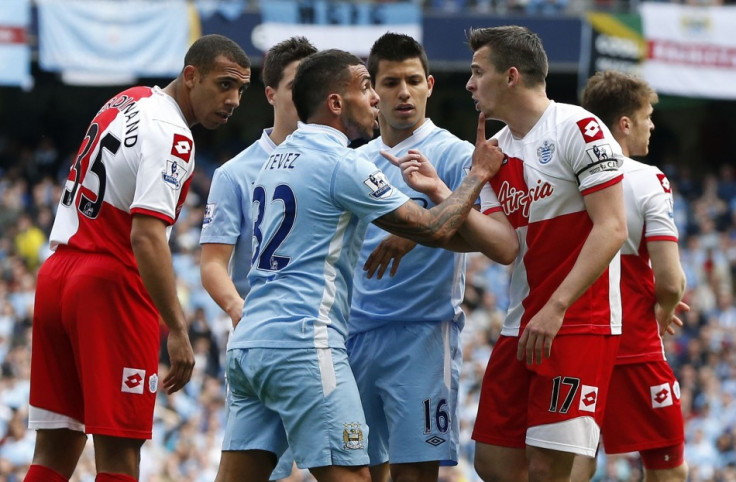 Disgraced QPR skipper Joey Barton will probably not play for the Hoops' first team next season, after he was slapped with a record-breaking 12 match ban, following his poor conduct during his team's final league game of the season, against Manchester City.
According to a report in the Telegraph, the 29 year old midfielder, who was also fined £75,000 by the FA, was in a seven-and-a-half hour long hearing with the FA Committee at Wembley, over a case which involved him hitting two City players, including Carlos Tevez, and then kneeing Sergio Agüero. In addition, Barton was also charged with trying to head-butt City captain Vincent Kompany. At the hearing, the former City player accepted the charges for violent conduct against Tevez and Agüero but he contested his charges for the incident involving Kompany.
"Barton accepted the charge of violent conduct against Agüero but denied the second breach of violent conduct against Kompany. The independent regulatory commission, however, found this second charge proved," read a FA statement, according to the Guardian. The FA added Barton would be able to appeal to the courts through a special procedure.
"There are rules of conduct that should be adhered to," said Brian Jones, the chairman of the FA's independent commission, according to a Daily Mail report.
"Such behaviour tarnishes the image of football in this country, particularly as this match was the pinnacle of the domestic season and watched by millions around the globe," said Jones, according to The Sun.
The three-man independent disciplinary panel will reportedly release their reasons (for Barton's ban) by the end of the week. Barton's legal team will then accordingly plan their next move. Meanwhile, the former Newcastle player apologised to his fans on Twitter soon after the shameful incident
"Can do nothing but apologise to the players and the fans. Still don't think its a sending off. Tried to take one of their players with me. The head was never gone at any stage, once I'd been sent off one of our players suggested I should try to take one of theirs with me," he posted on Twitter.
However, Barton's apology could hold very little weight as the 29 year old midfielder is known for his occasional outbursts of anger. He has been charged many times, including a fine of six weeks' wages for stubbing a lit cigar in the eye of a Manchester City teammate during a Christmas party in 2004, a four month jail sentence for assaulting a City player during training in 2008 and a suspension (of three games) for punching a Blackburn player in 2010.
© Copyright IBTimes 2023. All rights reserved.