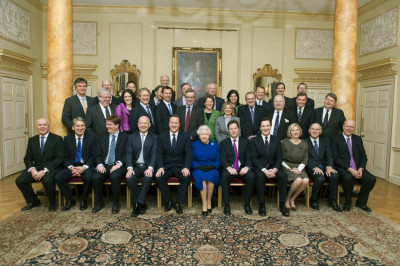 Queen Elizabeth II has attended a meeting of the Cabinet at Downing Street, the first time a sitting British monarch has attended the ministerial gathering for over 200 years.
The Queen, who is required to remain politically neutral, attended the meeting as an observer, and watched around half an hour of the 90-minute summit before departing. She reportedly sat alongside Prime Minister David Cameron.
Ministers presented the Queen with a gift they paid for themselves, believed to be 60 dining place mats.
King George III was the last British head of state to attend a Cabinet meeting in peace-time, in 1781.
Although some critics claimed the Queen's visit would obfuscate the distinction between monarchy and government, ministers were quick to express their excitement ahead of the meeting.
Energy Secretary Ed Davey told Sky News: "It is a great honour that she is attending Cabinet in her Diamond Jubilee year.
"It has been a very exciting year. Ministers will be excited but minding their Ps and Qs even more than normal."
Click on the slideshow to see pictures of the Queen's visit to Cabinet.