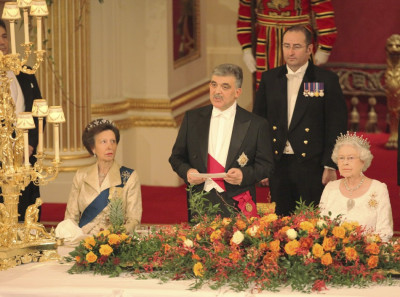 Turkish President Abdullah Gul and his wife Hayrunnisa was welcomed by the Queen yesterday on the start of his three-day state visit.
Mrs Gul's head was covered with a headscarf, an overtly Muslim item of clothing for which she is often criticised by secularists in her home country.
The government hopes President Gul's visit, which includes being entertained at Buckingham Palace, will forge closer links between Britain and Turkey.
Turkey, which is a growing economic powerhouse, is seen as an increasingly important trade partner.
Gul attended a state banquet after meeting political leaders on Tuesday, while on Wednesday he will deliver a foreign policy speech about the Arab Spring which is expected to touch on Turkey's strained relations with Syria.
After lunch at the palace, Gul visited Prime Minister David Cameron for talks at his Downing Street office.
He will also tour the Olympic Park in east London and visit parliament.