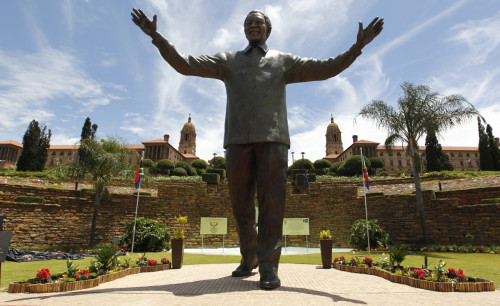 A bronze rabbit sculpture placed into the ear of a recently unveiled statue of Nelson Mandela in Pretoria has annoyed South Africa.
The nine-metre (30-feet) bronze statue of the late former South African President Nelson Mandela was unveiled as part of the Day of Reconciliation Celebrations at the Union Buildings in Pretoria on 16 December, ten days after the anti-apartheid revolutionary died from a prolonged respiratory infection. He died at the age of 95.
The rabbit went unnoticed until a local newspaper reported about it.
The South African government has ordered the immediate removal of the rabbit, which the sculptors nestled into Mandela's right ear as a signature of their work.
"We want to restore the integrity of the sculpture as soon as possible," Mogomotsi Mogodiri, spokesman for the ministry of arts and culture told AFP, adding that the sculptors secretly added the bronze rabbit without clearance from the government.
The 4.5-tonne statue, which is Mandela's largest sculpture in the world, was built at a cost of eight million rand (about £446,000). The statue is an acknowledgement of his contributions in fostering national reconciliation and unity.
Sculpted by bronze sculptors Andre Prinsloo and Ruhan Janse van Vuuren, the statue was unveiled a day after Mandela was buried.
Koketso Growth, the company that took the government's contract to erect the statue said it had been decided since the beginning not to engrave the statue with the artists' signatures. Their names were decided to be installed at a plaque near the statue instead.
"It is regrettable that the artists chose this way of expressing their opinion about not signing the sculpture," Dali Tambo, chairman of the company said.
The sculptors have apologised for sculpting a rabbit into Mandela's statue, deemed an insult of the art.
Mogodiri said that the ministry have accepted their apology but were unsure how long it would take to remove the bronze rabbit.