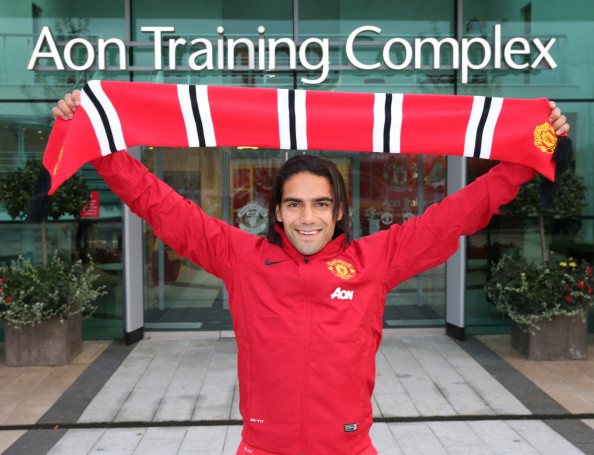 Radamel Falcao has indicated he is looking to remain at Manchester United beyond his season-long loan deal.
The Colombian international and fellow deadline day arrival Daley Blind were officially unveiled by the club alongside manager Louis van Gaal on Thursday.
Speaking to the press, Falcao, 28, spoke eagerly of his intention to immerse himself in the United 'project' initiated by the new manager this summer, and hopes the club will exercise their option to make his stay a permanent one next summer.
"It's a new process, a new team. This year some new players have come and I think Manchester United build a big team in this season and future seasons. I would like to be here and be part of this project.
"I hope to stay many years with United and make history with this club. When I was at Porto and Atletico Madrid I always wanted to improve and I dreamed of playing in a team like this. Now I want to stay here for many years.
"I feel well, I started to play two months ago with Monaco and I have improved in the last months a lot, I've scored goals, that is important to strikers and I am confident in my physical form. I am comfortable with my knee."
Falcao became United's sixth signing on deadline day during a summer of drastic upheaval at Old Trafford. The series of new arrivals – costing the club in the excess of £150m – was offset by the departure of 14 players, including Javier Hernandez and Danny Welbeck.
While United's new number nine anticipates a period of adjustment, he is confident the sheer quality of the players around him will see a quick transformation in the club's fortunes.
"I see the club on a period of getting to know each other," he continued. "There's a lot of new faces. But you're talking about a lot of top-quality, intelligent players who are bright enough to adapt to any tactics the manager has in mind for us. We will be able to adapt to that on the field and quickly."