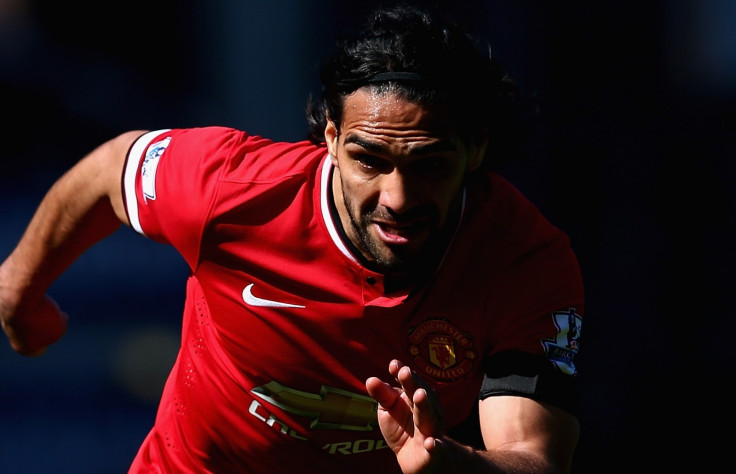 Manchester United have been warned against offloading striker Radamel Falcao at the end of the season despite his struggles during his maiden season in English football.
The 29-year-old has scored just four goals in 28 appearances in all competitions for manager Louis van Gaal's side after completing a £6m loan move to Old Trafford from Monaco on deadline day at the end of the summer transfer window.
Falcao would be available to United on a permanent basis for £42m, a price that United are expected to baulk at given the player's poor recent goal record and injury history, which saw him miss swathes of 2014 with a serious knee problem.
Concerns over Falcao's future at United has seen him linked with a move to Liverpool in the summer but Monaco vice-president Vadim Vasilyev said in April that a decision had not yet been reached.
But Cole, who scored 121 goals in 275 appearances for United during eight seasons at the club, believes Van Gaal could live to regret allowing Falcao to leave after a campaign hit by injury.
"I look at Falcao and I still think he is a quality player," he told Press Association Sport. "If you look at his movement and what he has done for his national team, you know he scores goals. His record before coming here was phenomenal, absolutely ridiculous.
"I know he has had an indifferent time since coming to Manchester United and everyone is saying he can't score goals any more, but no - it isn't like that.
"He has not got as many as he would have liked when he came to Manchester United. But that doesn't mean he is a bad player. He is far from a bad player."
The 43-year-old added: "I don't know whether United will keep him. The powers that be are considering it. If he doesn't stay here next year and he goes somewhere else, he will score goals.
"You don't stop scoring goals because you have an injury or whatever. It might take a little bit longer to recover from the injury but once you get injured it doesn't mean you stop. He will score goals wherever. If he doesn't stay here he will definitely do that."