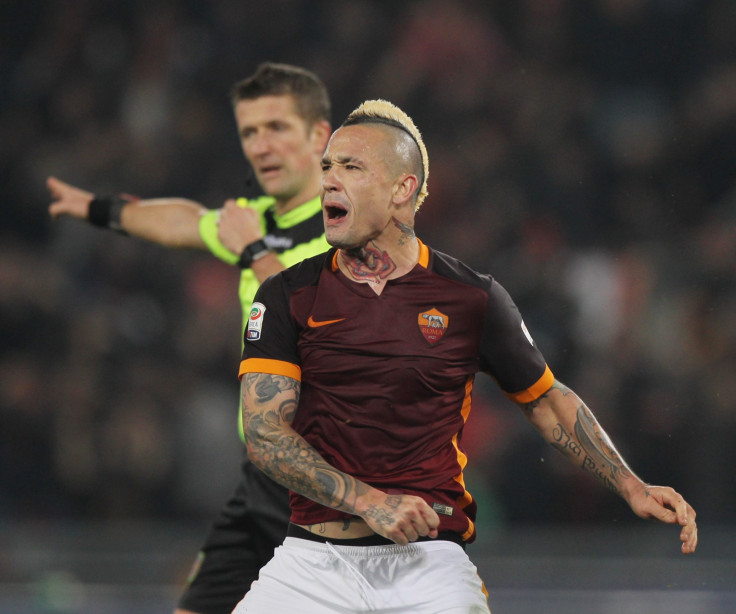 Radja Nainggolan is close to signing a new contract with Roma after rejecting a move to Chelsea in the summer.
The Blues were reported to have had three bids rejected for the 28-year-old playmaker during the summer transfer window, with the last offer worth £33m ($43.6m).
Nainggolan is now ready to commit to Roma by signing an upgraded contract despite having four years left on his current deal, according to talkSPORT.
"A renewal? I had already decided to stay," Nainggolan is quoted as saying.
"I'm happy here and this thing will work itself out. I think we're both on the same page, we'll find an agreement soon."
Chelsea turned their attentions elsewhere after having three bids for Nainggolan rejected by Roma, but manager Antonio Conte is reported to still be an admirer of the Belgium international.
Nainggolan has played in all three of Roma's Serie A matches this season. He made 35 league appearances for the club in the 2015/16 campaign, scoring six goals.
The 28-year-old also scored a memorable goal for Belgium in their Euro 2016 quarter-final defeat against Wales.
Fan support
Nainggolan criticised Roma fans for not supporting the team enough after the club's 3-2 win over Sampdoria on 11 September.
"I feel like a leader of this team," he told Gazzetta dello Sport.
"I agree that the team in the second half of the match looked like a different team. Once [Francesco] Totti came on, there was a completely different enthusiasm on the part of the fans.
"I wonder why in the first half, when we were losing 2-1, all you could hear was whistles and boos.
"It is not easy to play with serenity and confidence in that situation. When Totti came on we felt such a bigger push."
Roma are third in the Serie A standings with seven points from their three fixtures so far.