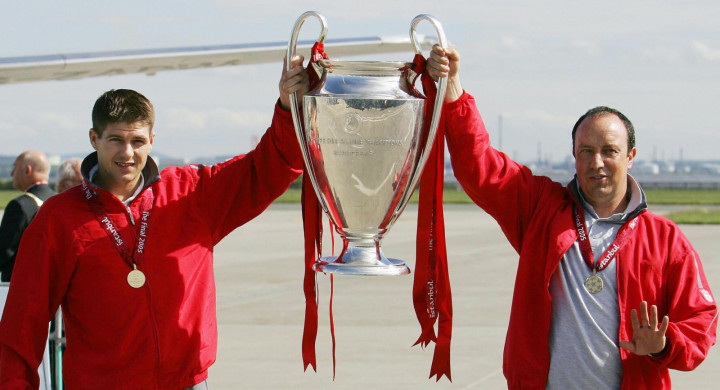 Former Liverpool manager Rafael Benitez has sparked rumours regarding a potential return to Anfield after stating he is likely to leave Napoli at the end of the season to return to live with his family.
Benitez guided Napoli to the Coppa Italia and to a third place finish in Serie A last term, but uncertainty reigns over his long-term future at the club after they were knocked out in the play-off round of the Champions League.
The ex-Liverpool and Chelsea manager has a strong affiliation with English football having enjoyed success with both clubs - including winning the Champions League in 2005 with the Reds - and admits a return to the Premier League is possible should a new deal with Napoli not be agreed.
"I have one year left this year and the future, you never know," Benitez told Sky Sports. "But I am talking to the chairman and thinking about the future with Napoli and all of the possibilities. My family is still here in England so we have to consider a lot of things.
"The main thing for me is to concentrate on my job and do my best for the next game and until the end. Napoli is a club that is growing so we have to see how fast we can improve things and it is a discussion we have had in the past and that we will have in the future.
"I don't know for how many months we will be talking about that. I am really pleased but we have to talk about everything. I want to win and do well this season and see where we are at the end.
"I have had conversations over a new contract with Napoli. I am happy there and the chairman is supporting me all of the time, I have a very good relationship with him. In football you never know.
The 54-year-old added: "My wife and two daughters live in Liverpool. It's the first time I haven't had them with me, it's not easy. [Napoli owner Aurelio De Laurentiis] knows how important my family values are to me."
The Spaniard's comments have been followed by bookmakers' rating Benitez as the favourite to become the next Liverpool manager, should Brendan Rodgers leave the club.
Rodgers has come under increasing pressure since guiding the club to a second place finish last season and into the Champions League, with Liverpool struggling upon their return to Europe and failing to back-up their title challenge from last season.
The Liverpool boss has continually bemoaned the club's injury problems which has seen them without Daniel Sturridge since August, while Luis Suarez has yet to be replaced since the Uruguay international joined Barcelona.
"When we finished second I was really pleased because we had 86 points and it still was not enough and everyone went 'oh you lost an opportunity'," Benitez added.
"So if you continue moaning about 'oh we lost an opportunity' you will not be ready for the future. So I think you have to concentrate on what you did well, what you did badly, and then try to improve for the future, for the next one."