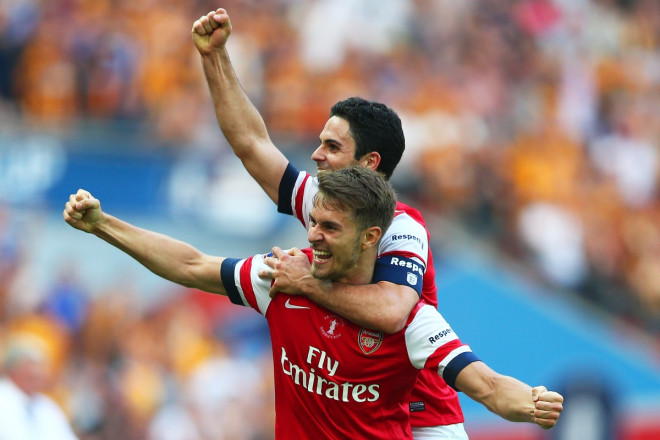 Arsenal midfielder Aaron Ramsey believes that their FA Cup win can be the start of a glorious future for the Gunners.
The north London club won their first trophy in over nine years, ending a run which had earned massive criticism for everyone associated with the club.
However, the win, like Arsenal's experiences over the past few seasons, was anything but straightforward. The Gunners saw themselves go 2-0 down within the 10th minute mark, with hull scoring from two set pieces.
The damage could have been worse if not for Kieran Gibbs' timely clearance from the line, failing which would have seen the Gunners go three goals down within 15 minutes.
Santi Cazorla's free kick within the 20-minute park brought the Gunners back into the game as they pushed and prodded, which eventually led to Laurent Koscielny scoring the equaliser from a Gunners corner in the second half.
Ramsey, who has been at the heart of everything positive for Arsenal this season, eventually scored the winner in extra time with a beautiful shot from the edge of the penalty box. Olivier Giroud's dexterous backheel opened up space for the Welshman, whose finish brought a sigh of relief among the Arsenal supporters and Arsene Wenger.
"Winning a trophy is massive for us players, for the manager,"Ramsey said.
"The last few seasons we've come in for a bit of criticism, not quite getting over the line.
"But now we've finally won something, hopefully it will push us on and we'll win a lot more things. I'm delighted for the players and the manager. Those thoughts about what might have been this season go through my mind, but that's football. I'm just happy to be back and to have won the FA Cup," he added.
However, the Welshman added that they have to start games better in order to win the Premier League, something which more often than not has proved their Achilles' heel this season.
"One thing we need to improve on is our away record against the top teams. We have to keep ourselves in those games," he explained.
"We did that again against Hull. Why? I'm not sure. But we always felt confident.
"Because they scored so early there was a long time to play. We created a few chances and it was a wonderful free kick to get us back in the game," he concluded.