Rana Plaza Disaster: Bangladesh Factory Inspections Start Following Retailer Pact and Pay Rises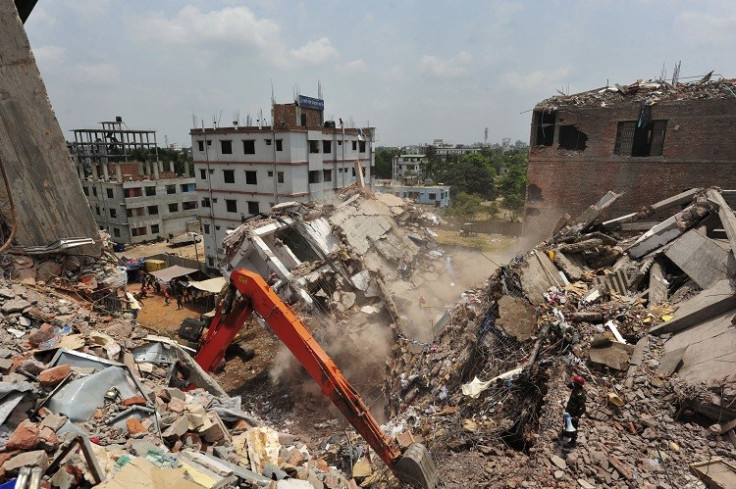 Dozens of engineers have kickstarted Bangladeshi garment factory inspections, after global retailers sealed a new safety pact stemming from the Rana Plaza disaster that killed 1,100 people, while workers were granted a wage hike.
According to the Bangladesh University of Engineering and Technology, thirty teams will initially assess 200 clothing factories over the next two months, with the view to inspect 1,000 factories on structural integrity, fire and electrical safety in the future.
Bangladesh's Labour Secretary Mikail Shipar said officials have so far only conducted visual surveys and the latest audits.
On 21 November, US and European retailers agreed on a new set of fire and safety standards for up to 2,000 Bangladeshi factories in a bid to avoid another Rana Plaza disaster.
However, the latest agreement shows that while global retailers have forged a pact, there is still a dispute over how to pay for the fire safety upgrades.
The North American group, Alliance for Bangladesh Worker Safety, says it is willing to stump up $100m (£62m, €74m) in loans to factory owners to finance safety upgrades while European retailers agreed to finance fire and safety reforms for buildings that do not meet requirements.
On the same day, Bangladesh's official wage board approved a 77% rise in pay for the region's garment workers from December after the world's second largest clothing exporter was crippled by strikes and the Rana Plaza disaster.
The wage board will push up the monthly minimum wage for entry-level garment industry workers to 5,300 taka (£41.8, €50.1, $67.4), from 3,000 taka.
Over four million people, mostly women, work in Bangladesh's clothing sector and work for an average monthly salary of $38.
However, Indian workers at non-clothing factories earn an average of $100 per month.
Wages were last raised in 2010 and the increase to 5,300 taka still falls short of the 8,000 taka demand.
Garment manufacturing in India results in $21bn a year as the government grants subsidies and tax concessions for Western countries.
© Copyright IBTimes 2023. All rights reserved.