A rare yet potentially fatal disease called medium-chain acyl-CoA dehydrogenase deficiency (MCADD) affects around 1 in 10,000 babies in the UK.
MCADD makes it hard for the body to break down fats and produce energy and if left undetected or untreated, it can cause severe developmental problems, including mental disability or death.
Sasha Hing was diagnosed with MCADD after she was tested through the NHS Newborn Blood Spot Screening Programme.
Sasha's mother, Karyn Hing, said: "Sasha was diagnosed following the newborn test. I can recall the phone call from our GP to say that Sasha had something called MCADD. I phoned my husband and was, as you can imagine, quite distressed trying to explain what it was.
"Once we had our consultant appointment the next day we had a clearer explanation and felt more in control. We were given a treatment plan and were reassured that our local hospital would be ready in case of any urgent concerns. Our consultant is great and the support offered by The National Information Centre for Metabolic Diseases has been a huge help.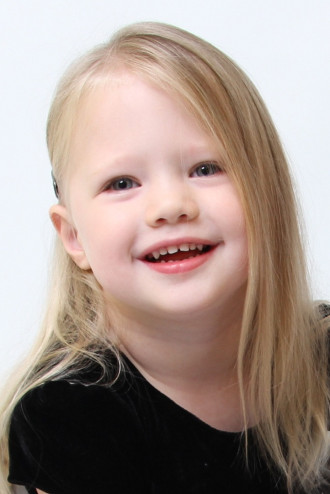 She added: "Sasha is a very warm hearted, happy girl. She attends nursery four days a week and as a result of the treatment plan, is able to enjoy a 'normal' life."
How can we tackle the disease?
The NHS screening programme has been hugely successful in tackling the disease, by identifying symptoms of the genetic disease, which includes tiredness and sluggish behaviour, being sick and seizures.
Today (28 February 2014) marks the seventh annual World Rare Disease Day which aims to raise awareness of rare conditions that can have a serious impact on patients' lives, such as MCADD.
The newborn screening programme offers screening to all babies in the UK to identify those who are at high risk of having certain serious but rare conditions.
Dr Anne Mackie, Director of Programmes for the UK National Screening Committee, part of Public Health England said receiving treatment from birth can reap irrefutable benefits.
"Most babies screened will not have any of the conditions but, for the small number that do, the benefits of screening are enormous. Receiving treatment from birth can improve the babies health and prevent severe disability or even death.
"We therefore strongly recommend blood spot screening, though it is always up to individuals to decide if it is right for them and their baby. The test in itself is quick and easy although it may be uncomfortable for your baby at the time. Your midwife or GP will be able to provide you with all of the information about the programme, if you are concerned that your baby was not screened at birth please speak to your GP."
What other rare illnesses does Rare Disease Day draw attention to?
Harlequin-type ichthyosis, also known as "Harlequin baby", is a genetic skin disease. It is the most severe form of congenital ichthyosis, which is characterised by a thickening of the keratin layer in foetal human skin. Patients have large, diamond-shaped scales, which turn the skin a red colour.
The disease also makes it more difficult for infants to control water loss, regulate their body temperature and fight infections. Respiratory failure can occur as a result of heavy skin across the chest. Many babies affected by Harlequin-type ichthyosis do not survive.
Alstrom Syndrome is a genetic condition that affects various parts of the body, with symptoms such as heart failure, obesity, hearing loss and kidney problems. Approximately 800 individuals have been diagnosed with the disease in 54 countries.
Symptoms normally present themselves from birth, but the disease often goes undetected as the symptoms are seen as separate problems. People with Alstrom Syndrome rarely live beyond the age of 50.