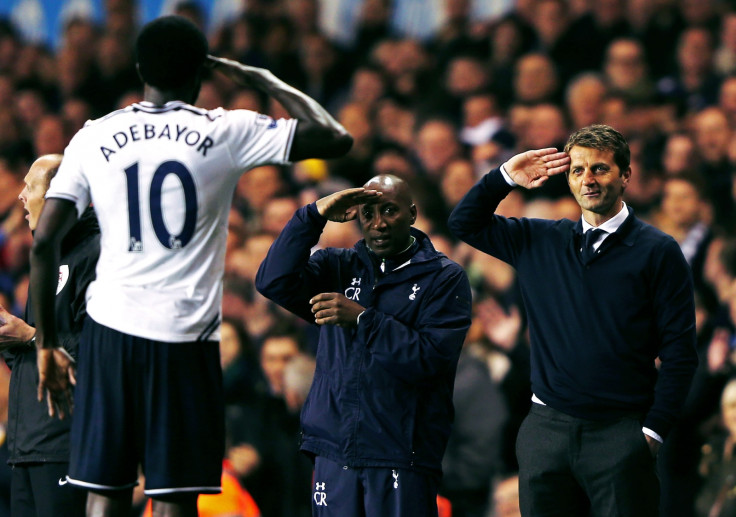 Aston Villa assistant manager Ray Wilkins has confirmed the club are interested in signing Tottenham Hotspur striker Emmanuel Adebayor and is confident the two clubs can do business.
Adebayor, 31, has scored 18 goals in his 54 appearances for the club but often found himself out of favour at White Hart Lane during the various different regimes in North London in recent years.
Under Mauricio Pochettino, the Togo international made just 13 appearances last season, scoring twice in a campaign that was also marred by a long-running feud with family members on Facebook.
After being exiled to the Tottenham youth team under Andre Villas-Boas in the 2013-14 season, it was current Villa boss Tim Sherwood who recalled him to the Tottenham first team, helping the striker rediscover his form.
And Sherwood is now keen to reunite with the former Arsenal and Manchester City striker, according to Wilkins.
When asked by talkSPORT if there is a chance of Villa signing Adebayor, the recently appointed assistant manager said: \"I think there is. I can only talk for myself, but I am hoping there is because when Adebayor wants to play he is extremely effective.
\"He knows the Premier League inside out, so he would be a good addition for us.\"
Earlier this summer Adebayor stated his intention to remain at Tottenham but the opportunity to link up once again with Sherwood could prove tempting, with Spurs unlikely to stand in his way.
Villa are aiming to fill the void left by Christian Benteke, who joined Liverpool for a reported fee of £32m ($49.7m) last week. In addition to Adebayor, the club are also hopeful of bringing in Lorient forward Jordan Ayew, who will soon undergo a medical, according to Wilkins.
\"The medical hasn\'t been done up to now but we are just waiting upon that.
\"He is in the country and we are looking forward to getting Jordan on board.\"