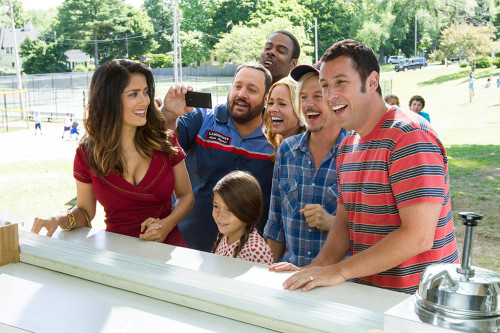 Showcasing the downright awful side of Hollywood – the Golden Raspberry Awards (Razzies) have been a feature of Hollywood's awards season for over 30 years.
It's an awards show comedian Adam Sandler has been familiar with in the past few years and will grace once again in 2014 with depressingly-popular ensemble comedy Grown Ups 2, which is up for eight awards.
Last year he "won" Worst Actor for That's My Boy and in 2012 his cross-dressing comedy Jack And Jill became the biggest ever winner at the spoof awards show – picking up ten gongs.
Grown Ups 2 will fight out it out with The Lone Ranger, A Madea Christmas, After Earth and Movie 43 for the Worst Picture crown at this year's ceremony.
Starring Sandler alongside Kevin James, Chris Rock and David Space, Grown Ups 2 follows a group of four childhood friends and their long-suffering families.
The success of the first film in 2010 led to Sandler making a sequel – the first of his career.
Here is the (very long) full list of Razzie nominees...
Worst Picture
After Earth
The Big Wedding
47 Ronin
Getaway
Grown Ups 2
Grudge Match
The Host
InAPPropriate Comedy
The Lone Ranger
A Madea Christmas
Movie 43
Paranoia
R.I.P.D.
Runner Runner
Scary Movie 5
Worst Actor
Adrien Brody - InAPPropriate Comedy
Robert De Niro - The Big Wedding / The Family / Grudge Match
Johnny Depp - The Lone Ranger
Liam Hemsworth - Love and Honor / Paranoia
Ashton Kutcher - Jobs
Keanu Reeves - 47 Ronin
Adam Sandler - Grown Ups 2
Arnold Schwarzenegger - Escape Plan / The Last Stand
Jaden Smith - After Earth
Sylvester Stallone - Bullet to the Head / Escape Plan / Grudge Match
Jason Statham - Homefront / Parker
Ben Stiller - The Secret Life of Walter Mitty
Vince Vaughn - Delivery Man / The Internship
Owen Wilson - Free Birds / The Internship
Worst Actress
Gemma Arterton - Hansel and Gretel: Witch Hunters / Runner Runner
Halle Berry - The Call / Movie 43
Selena Gomez - Getaway
Jennifer Hudson - Winnie Mandela
Lindsay Lohan - The Canyons / InAPPropriate Comedy
Jennifer Lopez - Parker
Tyler Perry (as Madea) - A Madea Christmas
Michelle Pfeiffer - The Family
Noomi Rapace - Dead Man Down / Passion
Saoirse Ronan - The Host
Jurnee Smollett-Bell - Temptation: Confessions of a Marriage Counselor
Naomi Watts - Diana / Movie 43
Worst Supporting Actor
Ben Affleck - Runner Runner
Chris Brown - Battle of the Year
William Fichtner - The Lone Ranger
Harrison Ford - Ender's Game / Paranoia
James Franco - Homefront
Mel Gibson - Machete Kills
Armie Hammer - The Lone Ranger
Larry the Cable Guy - A Madea Christmas
Taylor Lautner - Grown Ups 2
Rob Schneider - InAPPropriate Comedy
Charlie Sheen - Machete Kills / Scary Movie 5
Will Smith - After Earth
David Spade - Grown Ups 2
Nick Swardson - Grown Ups 2 / A Haunted House
Tom Wilkinson - The Lone Ranger
Worst Supporting Actress
Kate Bosworth - Homefront / Movie 43
Abigail Breslin - The Call
Helena Bonham Carter - The Lone Ranger
Salma Hayek - Grown Ups 2
Katherine Heigl - The Big Wedding
Kim Kardashian - Temptation: Confessions of a Marriage Counselor
Diane Keaton - The Big Wedding
Lady Gaga - Machete Kills
Lindsay Lohan - Scary Movie 5
Shirley MacLaine - The Secret Life of Walter Mitty
Winona Ryder - Homefront
Susan Sarandon - The Big Wedding
Sofia Vergara - Escape from Planet Earth / Machete Kills
Kate Winslet - Movie 43
Worst Screen Combo
Chris Brown and his dancing shoes - Battle of the Year
Johnny Depp and that dumb dead bird on his head - The Lone Ranger
The entire cast of The Big Wedding
The entire cast of Grown Ups 2
The entire cast of The Hangover Part III
The entire cast of The Host
The entire cast of Machete Kills
The entire cast of Movie 43
Lindsay Lohan and Charlie Sheen - Scary Movie 5
Tyler Perry and either Larry the Cable Guy or that worn out wig and dress - A Madea Christmas
Jaden Smith and Will Smith on planet nepotism - After Earth
Sylvester Stallone and either Robert De Niro in Grudge Match, Arnold Schwarzenegger in Escape Plan, or the typewriter he used to write Homefront
Worst Prequel, Remake, Rip-off or Sequel
Battle of the Year
G.I. Joe: Retaliation
A Good Day to Die Hard
Grown Ups 2
Grudge Match (mash-up/rip-off of Raging Bull and Rocky)
The Hangover Part III
The Lone Ranger (remake of past Lone Rangers and rip-off of Wild Wild West)
Machete Kills
Scary Movie 5
The Secret Life of Walter Mitty
The Smurfs 2
Texas Chainsaw 3D
Worst Director
Dennis Dugan - Grown Ups 2
Malcolm D. Lee and David Zucker - Scary Movie 5
Robert Luketic - Paranoia
John Moore - A Good Day to Die Hard
Andrew Niccol - The Host
Vince Offer - InAPPropriate Comedy
Tyler Perry - A Madea Christmas / Temptation: Confessions of a Marriage Counselor
Carl Rinsch - 47 Ronin
M. Night Shyamalan - After Earth
Courtney Solomon - Getaway
Ben Stiller - The Secret Life of Walter Mitty
The 13 people (Elizabeth Banks, Steven Brill, Steve Carr, Rusty Cundieff, James Duffy, Griffin Dunne, Peter Farrelly, Patrik Forsberg, Will Graham, James Gunn, Bob Odenkirk, Brett Ratner, Jonathan van Tulleken) who directed Movie 43
Gore Verbinski - The Lone Ranger
Justin Zackham - The Big Wedding
Worst Screenplay
After Earth
The Call
Escape Plan
Grown Ups 2
Homefront
The Host
InAPPropriate Comedy
The Lone Ranger
Machete Kills
A Madea Christmas
Movie 43
Paranoia
Scary Movie 5
The Secret Life of Walter Mitty