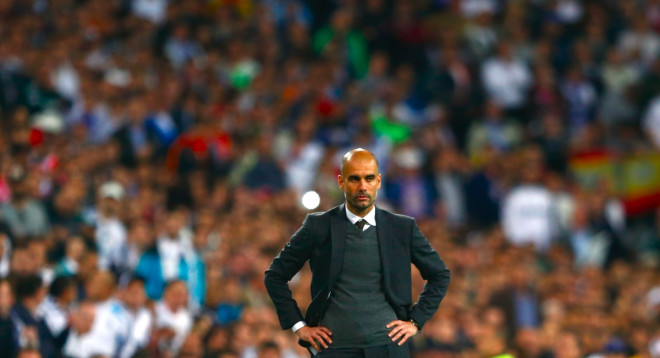 Bayern Munich had 73% of the ball and a more elaborate gameplan, but have still been condemned by the world's media after their defeat in last night's Champions League semi-final first leg in Madrid.
Pep Guardiola, who had never lost at the Santiago Bernabeu as Barcelona boss, came in for severe criticism with many claiming he ran out of ideas.
Spanish and international press highlighted Real's effectiveness in repelling Bayern - although some Barcelona-based titles backed their former hero to win the tie.
Catalan newspaper Sport roars: "Guardiola will seek revenge in Munich", adding: "Bayern dominated the game and possession, but the Los Blancos' power tipped the balance."
The paper also claims that, while Real "can be lethal with just one chance," Guardiola "will have the opportunity to comeback and also avenge Barcelona fans."
Catalonia's other major sports newspaper, Mundo Deportivo, said: "Two completely opposite styles clashed. Bayern, like Barca, playing until the end. [Carlo] Ancelotti's Real Madrid go deep to look for the counterattack."
Madrid-based Daily AS refers to Karim Benzema's winner last night as a "golden goal". While Marca said, somewhat cryptically, "Guardiola is not the black beast anymore."
Beyond the Spanish press, German newspaper Bild lead the recrimination, its headline blaring: "Pep, your treble dream will finish this way." Bild also admits Bayern played "without real scoring chances," adding: "Cristiano [Ronaldo] forced more chances despite not being recovered from his injury," "[Franck] Ribery stayed relaxed in the shadow."
Kicker, Germany's major sports newspaper, similarly lampoons Bayern for "a lot of ball possession but few ideas. The defending champions clearly had more possession of the ball and advantages, but in attack there was a lack of effectiveness."