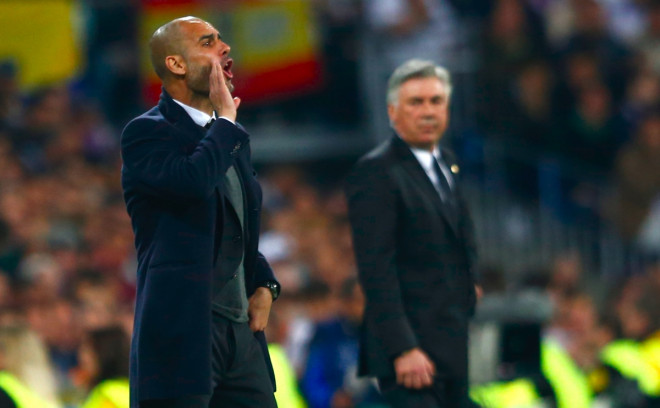 Bayern Munich boss Pep Guardiola believes his team played well, despite losing 1-0 to Real Madrid in last night's Champions League semi-final first leg at the Santiago Bernabeu.
In his post-match press conference, Guardiola congratulated Real for the win but insisted he was very proud of the way his players faced the game and warned Los Blancos not to assume their passage to the final is secure, as there are still 90 tough minutes left to play.
"Congratulations to Madrid. They won in the first 90 minutes and now we have another match to play in Munich" Guardiola told Canal+.
"They have a lot of energy, they are the best team in the world at the counter-attack. We wanted to control the match with possession. We failed to score, but there is another game and we will give our all.
"The faster the ball goes, the faster it comes back. We controlled the game but Real Madrid were waiting to counterattack. And on the counterattack they are unstoppable. They have great athletes and if you allow them to run, they will take advantage.
"In the first half, Real Madrid didn't string together three passes. They didn't have the ball. When they did have the ball, they created danger. I'm proud of my team, they showed a lot of strength against one of the best teams in the world and we can still do it in the second leg."
Although Guardiola insisted on praising on his players, the truth is the Bayern's performance left much to be desired – as did his team's tactics.
The former Barcelona boss was unable to continue his excellent record at the Santiago Bernabeu, where he never lost as Barcelona manager.
After Karim Benzema's goal, the defending champions – who were dominating with pressure and possession football - didn't know how to react.
Guardiola did not expect that the ghost of Jose Mourinho was going to possess Carlo Ancelotti, who surprised the Spaniard boss with a counter-attacking strategy, waiting for the rival's mistake – a style practically patented by the Special One.
Mourinho's cagey tactics were derided during his time at the Bernabeu, but it was precisely this gameplan which nullified Guardiola – widely regarded as the world's finest coach.
However, everything is still to play for in Tuesday's second leg.